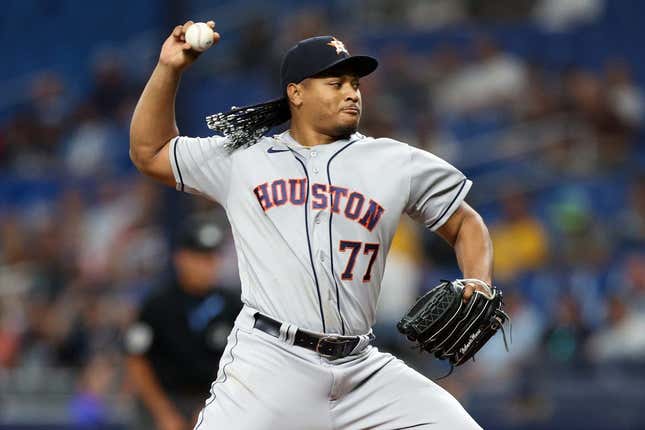 With injuries still leaving gaping holes in their lineup, the Houston Astros nonetheless finished the season's first month with a winning record thanks to their 4-3 victory over the visiting Philadelphia Phillies on Sunday
Bass' ERA stinks, but not compared to who he is off the mound | Worst of the Week Countdown
The Astros have been feeling the effects of not having Jose Altuve (thumb) and Michael Brantley (shoulder) so far. And while they averted a series sweep by beating the Phillies -- and improving to 2-3 in one-run games -- they entered the weekend with three consecutive series wins despite the roster attrition
Houston opens a three-game series against the visiting San Francisco Giants on Monday
Brantley is on a rehab assignment, although manager Dusty Baker said over the weekend that there is no set at-bat or innings threshold for the outfielder to reach while in the minors. He was expected to return early this month.
Altuve might not be far behind, providing a boost for a club still trying to put its pieces in place.
"We're still at that progress point trying to analyze if we have enough compared to the other clubs," Baker said. "I don't worry about them, but you still compare."
Right-hander Luis Garcia (2-2, 4.00 ERA) is Houston's scheduled starter for Monday. He has logged back-to-back scoreless outings, having allowed three hits and two walks with seven strikeouts over six innings in the Astros' 5-0 win over the host Tampa Bay Rays on Tuesday
In his previous start, he went seven scoreless innings in an 8-1 win over the visiting Toronto Blue Jays on April 19. Garcia allowed two hits and one walk while matching his career high of nine strikeouts.
Garcia is 0-1 with a 9.64 ERA in his one appearance against the host Giants. He surrendered five runs on eight hits and two walks with seven strikeouts over 4 2/3 innings against San Francisco on Aug. 1, 2021, a 5-3 loss
Right-hander Ross Stripling (0-1, 6.89 ERA) will start the series opener for the Giants. He will be making his third start, and the second in succession, after he allowed three runs (two earned) on six hits and a walk with a strikeout over 3 1/3 innings in the Giants' 5-4 victory over the visiting New York Mets on April 23. Stripling did not factor into the decision
His previous three appearances were out of the bullpen.
Stripling is 1-1 with a 4.97 ERA over three career starts against the Astros. In his previous appearance against Houston, Stripling, then with Toronto, allowed three runs on five hits and a walk with two strikeouts over four innings in the visiting Blue Jays' 4-3 victory on April 22, 2022
The Giants dropped both games of a two-game set against the San Diego Padres in Mexico City, falling 6-4 on Sunday for their third consecutive loss. The skid followed a five-game win streak that had them within two games of .500
Adding injury to insult, the Giants lost center fielder Mike Yastrzemski to a hamstring injury in the eighth inning on Sunday. He has a .292/.333/.521 slash line with five home runs and 14 RBIs. He trails team home run leader J.D. Davis by on
Yastrzemski will undergo an MRI on Monday.
The injury is "a bummer," he said. "Try to just keep the spirits high and see where it goes."
--Field Level Media