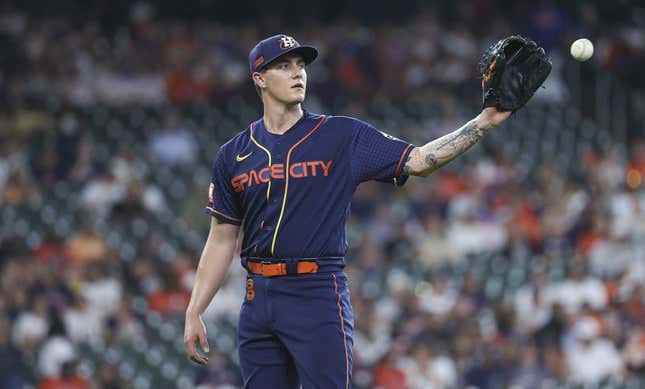 The Houston Astros will continue their rookie train on Sunday night when right-hander Hunter Brown takes the mound in the finale of a three-game series against the host Los Angeles Dodgers
Is Texas or Florida State a bigger national title contender? | Agree to Disagree
The Astros will start their third rookie pitcher in the series. J.P France pitched well in a loss to the Dodgers on Friday, and Ronel Blanco recovered from a slow start to retire 16 of the last 17 batters he faced on Saturday
Brown (6-4, 3.78 ERA) was one of the top prospects in baseball when he moved into the Houston starting rotation this season following seven appearances in 2022 that allowed him to get a taste of life in the big leagues.
Brown posted a 3-0 record with a 2.37 ERA in April before stumbling a bit in May, going 2-2 with a 4.78 ERA in six starts. June has been a mixed bag for him, with an impressive scoreless seven innings against the Washington Nationals on June 13, but he then allowed a career-high six runs over 5 2/3 innings in a loss to the New York Mets on Monday.
"That's just baseball," said Brown, who has given up eight home runs over his last eight starts. "I'm trying to stick to the process and hopefully continue to get better and try to shell out some good outings for this ballclub."
Brown will face the Dodgers for the first time in his career
Houston could use 24-year-old's top form after the club dropped the first two games of the series, including a wild 8-7 defeat Saturday in which Los Angeles scored the go-ahead run in the eighth inning on a balk by Ryne Stanek.
The Astros have lost seven of their last nine games, all without slugger Yordan Alvarez (oblique)
The Dodgers will counter in the series finale with right-hander Tony Gonsolin (4-2, 2.92), who had his worst start of the season in his last outing. The San Francisco Giants blasted Gonsolin for a career-high seven runs on six hits with three walks over 5 2/3 innings last Sunday
Gonsolin started the outing with three perfect innings. There was little to savor about the rest of his day.
"My execution really just suffered after that third inning," he said. "Balls left up in the zone. They got some soft hits that kind of just fell down and some hard hits that helped. Overall, the execution really just wasn't there."
Despite a solid ERA in 10 outings this season, Gonsolin has been on an up-and-down ride of late. He gave up four runs in five innings to the red-hot Cincinnati Reds on June 6, then received an extra few days of rest before his next outing, when he struggled to bounce back physically.
When he returned June 13 against the Chicago White Sox, he pitched six scoreless innings, then struggled against the Giants. When he takes the mound Sunday, it will be another full week between starts.
"As he got up a little bit in the pitch count, the stuff wasn't as sharp," Dodgers manager Dave Roberts said of Gonsolin's most recent start
Gonsolin has yet to face the Astros in his career
The Dodgers' bullpen has struggled most of the season, but over a current four-game winning streak, the relievers have given up one run in 19 innings. The stretch includes a bullpen game Wednesday that ended in a 2-0 victory over the Los Angeles Angels
--Field Level Media