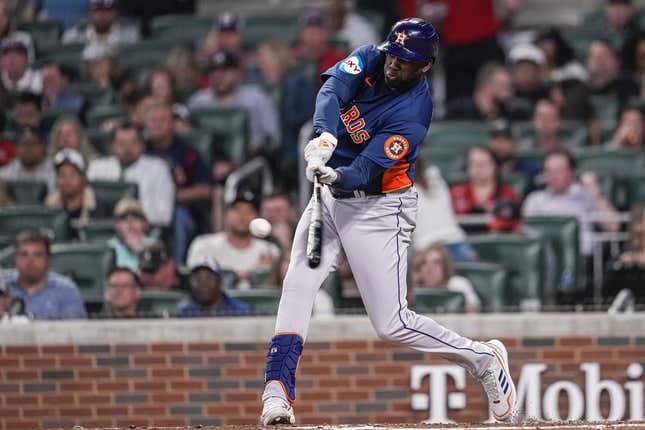 Houston Astros outfielder Yordan Alvarez, whose clutch slugging aided a weekend sweep at Atlanta, will miss the team's opener Monday night at the Tampa Bay Rays because of neck discomfort
Aaron Rodgers should go full Joe Namath | Comedian Bert Kreischer
Houston manager Dusty Baker made the announcement before the game, saying Alvarez has had an issue with his neck for about a week and will leave the team for a medical evaluation.
"We decided to send him to go get examined," Baker said. "Hopefully, it's not too bad. So, we'll see."
The Astros have three games scheduled at Tampa Bay before returning to Houston for a six-game homestand. Baker does not know if Alvarez will be available for the final two games against the Rays but hopes to avoid placing him on the injured list
"We don't think so," Baker said. "We hope not. We just have to see after he sees the doctor."
Alvarez, 25, is batting .253 with a .533 slugging percentage and .367 on-base percentage in 90 plate appearances over 20 games. He has six homers and 27 RBIs.
He slugged late go-ahead homers in 6-4 and 6-3 wins over the host Braves on Friday and Saturday, then delivered a game-tying two-run single in the eighth inning of the Astros' 5-2 victory Sunday
The team has won four consecutive games.
In five seasons, all with Houston, Alvarez is hitting .294 with a .587 slugging percentage, .383 on-base percentage, 104 homers and 310 RBIs.
--Field Level Media