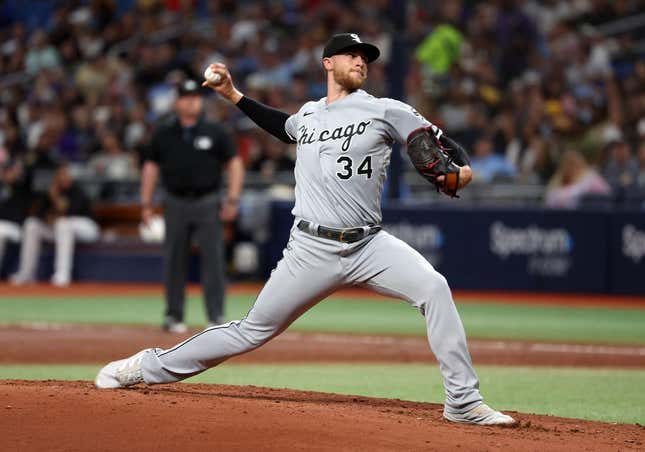 The visiting Chicago White Sox will try to end a six-game losing streak in the finale of a three-game series with the Toronto Blue Jays on Wednesday afternoon
'Soccer fandom is full of gatekeepers' says Ted Lasso actor Brendan Hunt
Toronto clinched a series win Tuesday night, winning 7-0 behind two home runs from catcher Danny Jansen and seven innings from right-hander Jose Berrios.
Left-hander Yusei Kikuchi (3-0, 3.80 ERA) will start for Toronto on Wednesday. He is 1-1 with a 6.92 ERA in three career starts against the White Sox
Like Berrios, Kikuchi has improved this season after struggling in 2022.
"He's more comfortable and more confident," Blue Jays manager John Schneider said. "I love the fire on some close pitches. When you're confident like that, you can show a little bit more emotion and then lock back in for the task at hand.
Chicago will start right-hander Michael Kopech (0-2, 6.97). In three career appearances (one start) against Toronto, Kopech is 0-1 with a 20.77 ERA.
The White Sox are wrapping up a six-game trip against American League East teams. They were swept in three games by the Tampa Bay Rays to start the trip
The losing streak has Chicago at 7-17 to open the season.
"I don't see this like our season is over by any means," White Sox manager Pedro Grifol said before the loss on Tuesday. "Every team goes through this. But we obviously have to make adjustments. We can't hide the fact we have to make adjustments at the plate, as a team and staff
"We have to get better. But as far as being (7-17) and panicking ... we're not feeling it. We're going to have our stretches where we're really, really good -- and we have to take advantage of those stretches and extend them."
Third baseman Jake Burger told the Chicago Tribune, "You're going to have some bad streaks and really good streaks and everything in between. As long as you're taking care of your business every single day, the results will end up being there."
The White Sox are also dealing with injuries. Shortstop Tim Anderson (sprained left knee) and third baseman Yoan Moncada (lower back soreness) are on the injured list
Grifol said Anderson, who last played April 10, is "in a good spot" and should start a rehabilitation assignment soon.
Grifol said Moncada, who last played April 9, is "feeling way better," but the manager was reluctant to give a timetable for a return.
"It's the back, so you have to be careful," he said. "It depends on the symptoms. The last couple of days he's made significant improvements."
Berrios dominated Chicago on Tuesday, allowing four singles and one walk while striking out a season-best nine.
He completed seven innings for the second consecutive start and has allowed three runs over his past three starts, posting a 1.42 ERA.
"A lot of things are sustainable," Schneider said about Berrios. "For one, he's really good. I think he's been really aggressive with executing both the fastball and breaking ball. There's a whole lot to think he can get on a good roll."
Toronto's Whit Merrifield was 0-for-3 with a walk on Tuesday to end a 10-game hitting streak. Merrifield has reached base in each of his 18 games this season, recording a hit in 15 of them.
--Field Level Media