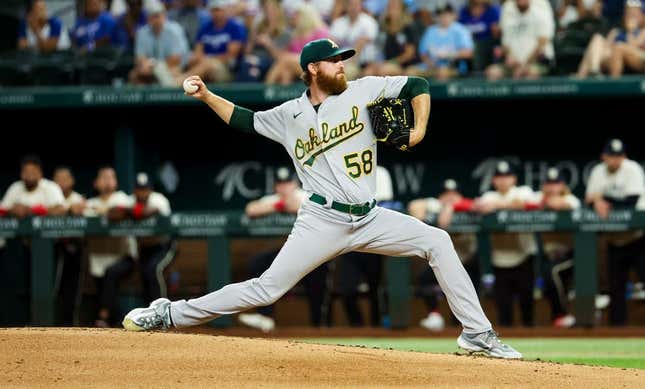 After completing a double-digit drubbing of the San Diego Padres on Sunday and expanding their lead in the American League West to 2 1/2 games, the Houston Astros — with the last-place Oakland Athletics next on their schedule — appeared poised to put some distance between themselves and their closest pursuers for the division crown.
How running an NFL team is like running a restaurant | Chef Emeril Lagasse
However, following 4-0 and 6-2 losses to the Athletics the past two days, the Astros (82-64) lead the division by just one game over the Texas Rangers (80-64) and by 1 1/2 games over the Seattle Mariners (80-65).
Oakland had lost nine of 10 games against Houston this season before pulling off a pair of stunning victories.
The Astros went from riding high, having won 10 of 14 games, to having manager Dusty Baker describing an odd double play in the fifth inning that snuffed a potential rally as "disheartening" in a span of just over 48 hours. They face what amounts to a must-win game in the series finale on Wednesday.
"It's tough to take, but it is what it is at this point," Baker said. "We've got to come back (Wednesday) and salvage this game before we go on the road.
"I'm not worried. I don't worry. I don't like it, but worrying does no good. It doesn't do anything but make it worse."
Hunter Brown (10-11, 4.78 ERA) has the starting assignment for the Astros on Wednesday.
The rookie right-hander has labored of late, going 2-4 with an 8.25 ERA and a .984 opponents' OPS over his past six appearances (five starts). Brown has allowed a .320 opponents' average during that span, and he last recorded a quality start on Aug. 4 in a 7-3 road win over the New York Yankees.
Brown is 1-0 with a 2.37 ERA over three career starts against the Athletics, with all three starts coming this season. In his most recent outing against Oakland, he allowed two runs on six hits and two walks with four strikeouts over six innings in a no-decision on July 23.
Paul Blackburn (4-4, 3.88 ERA) will start the series finale for the Athletics on Wednesday.
The right-hander is 3-2 with a 2.52 ERA over his past nine starts dating back to July 22. Blackburn, who started the season on the injured list due to a torn right middle fingernail before being reinstated on May 29, has allowed only eight home runs in 92 2/3 innings this year (0.78 per nine innings).
Blackburn is 0-4 with a 9.51 ERA over seven career appearances (six starts) against the Astros. In his lone start against Houston this year, he allowed one run on five hits and three walks with five strikeouts over 5 1/3 innings on July 22 in the Athletics' 4-1 win, their lone victory over the Astros this season prior to Monday.
Dominated by Houston for most of this season, Oakland (46-99) has suddenly become a thorn in the Astros' side at a most inopportune time. The Athletics are relishing wreaking havoc.
"Obviously we're not going to be in the playoffs and we're in a situation where I guess our mentality is to go out there and win and ruin as many seasons as we can because we're not going to be playing in October," A's left fielder Tony Kemp said. "The guys haven't taken that lightly and have been having more and more fun."
—Field Level Media