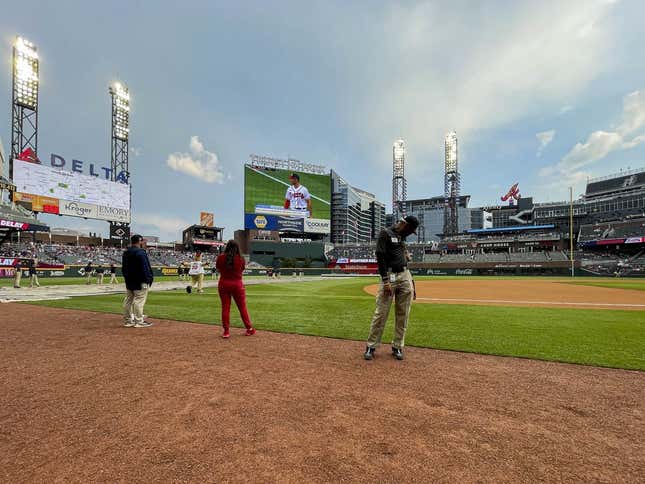 Atlanta is one of the cities under consideration for the 2025 All-Star Game.
That is significant because the city lost the 2021 Midsummer Classic when Major League Baseball pulled the game amid backlash to changes in Georgia's voting laws.
How running an NFL team is like running a restaurant | Chef Emeril Lagasse
But now commissioner Rob Manfred says Truist Park, home to the Atlanta Braves, could end up being the site of the 2025 game.
"Atlanta is in the mix of clubs for the '25 All-Star Game," Manfred told the Baseball Writers' Association of America on Tuesday, hours before first pitch of the annual showcase game in Seattle. "I'm not prepared to go past that for right now."
The 2021 All-Star Game was moved to Coors Field in Denver.
Another site under consideration is Wrigley Field, home of the Chicago Cubs. The game hasn't been held at that famed ballpark since 1990.
"As time goes by, I've been more focused on keeping track of when a game was last there and trying to get back to places where we haven't been in a really long time," Manfred said. "That's a long time."
Boston's Fenway Park also is on Manfred's radar. The Red Sox haven't hosted the game since the emotional 1999 scene when wheelchair-bound Ted Williams, largely considered the top all-around hitter in baseball history, threw out the ceremonial first pitch and was escorted to the mound by Tony Gwynn, the top pure hitter of his era who played for the San Diego Padres.
Next year's game will be hosted by the Texas Rangers and the 2026 game will be held in Philadelphia, in conjunction with the 250th anniversary of the signing of the Declaration of Independence.
Atlanta previously hosted All-Star Games in 1972 and 2000.
--Field Level Media