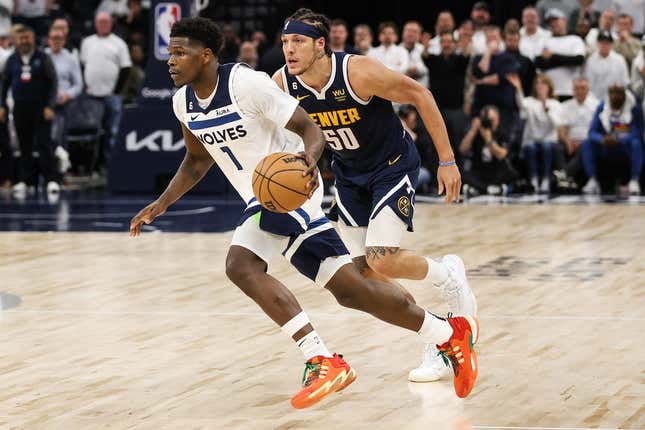 An attorney for Minnesota Timberwolves star Anthony Edwards sharply criticized the Denver Police Department's decision to charge the guard with third-degree assault after Tuesday night's series-ending 112-109 loss to the Denver Nuggets
How running an NFL team is like running a restaurant | Chef Emeril Lagasse
Harvey Steinberg said his client will "vigorously defend" himself against the two misdemeanor charges, stemming from Edwards swinging a folding check in the seating area and hitting two female employees, according to Denver police. Both women said they were injured.
Edwards picked up the chair as he was running to the locker room after missing a tying 3-point shot as time expired in the playoff game.
"With the game over, Anthony's exit from the court was partially obstructed by a chair, which he moved and set down three steps later," Steinberg said in a statement released through the Timberwolves. "As video of the incident confirms, Anthony did not swing the chair at anyone and of course did not intend to hurt anyone
"Anthony intends to vigorously defend against these baseless charges."
Edwards, 21, is scheduled for a court appearance on June 9. If convicted, he could face up to 18 months in jail and/or $1,000 in fines.
Edwards reportedly didn't appear at the team's season-ending press conferences on Thursday. Coach Chris Finch and general manager Tim Connelly both declined comment.
On Wednesday, the team released a statement saying, "We are aware of the alleged incident regarding Anthony Edwards following Game 5 in Denver and are in the process of gathering more information, We have no further comment at this moment."
In 79 regular-season games (all starts), Edwards averaged 24.6 points, 5.8 rebounds and 4.4 assists while shooting 45.9 percent from the field.
Edwards started all five games of the Denver series and finished with averages of 31.6 points, 5.2 assists and 5.0 rebounds.
--Field Level Media