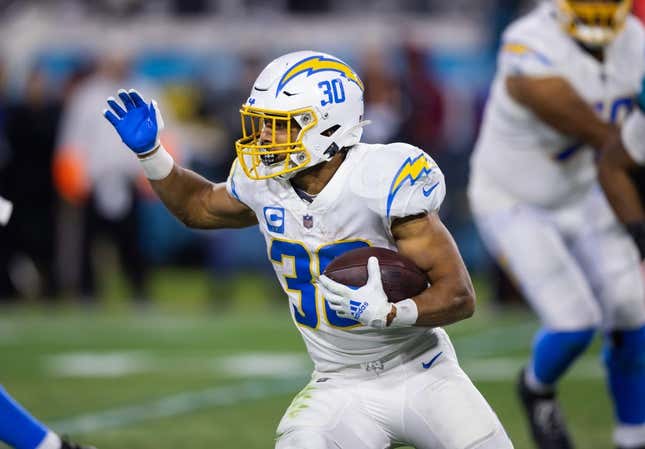 Austin Ekeler says the Los Angeles Chargers won't back up what he brings to the team with a new contract
Bass' ERA stinks, but not compared to who he is off the mound | Worst of the Week Countdown
Due to make $6.23 million in 2023 in the final season of his four-year, $24.5 million contract, he told SiriusXM Fantasy Sports Radio's Fantasy Dirt show on Tuesday that he deserves more pay and that the Chargers aren't playing ball
"I kinda got punched in the face when the Chargers basically said, 'Hey we don't want to talk about extensions anymore,'" Ekeler said. "I was like, 'Wow, this is the first time in my career with them that I felt disrespected by my own organization.'
Over his past two seasons with the Chargers, the running back has a combined 1,826 yards rushing and 1,369 receiving yards on 177 catches. His 3,195 yards from scrimmage are third in the NFL in that span, and his 38 total touchdowns over the past two seasons -- 20 in 2021, 18 in 2022 -- lead all running backs
And he wants to be paid like one of the top backs in the league.
His annual average salary of $6.125 million puts him 14th in the NFL in running back pay -- nearly $10 million less than Christian McCaffrey's $16.015 million, according to Spotrac. In all, 10 running backs make more than $10 million.
Forty wide receivers will earn a higher salary the Ekeler in 2023.
As a result of their standoff, the Chargers granted Ekeler, 27, permission to seek a trade last month
"The fact that there's such a huge drop-off when it comes to the running back market just doesn't make any sense," Ekeler said. "We've got No. 3 receivers that are going to catch four balls a game, have 600 or 700 yards of offense, score four touchdowns and get $8 or $9 million a year ... I got 1,600 (scrimmage) yards, I got 18 touchdowns and I can't get above $6 million (a year)?"
While a trade isn't his No. 1 option, he said he'd like to play for a team that values his contributions.
"It really doesn't come down to the logo, it's really just the commitment to having me in their long-term plans," he said. "Worst case scenario out of all this, I'll come back and play for the Chargers and bet on myself and be a free agent next year.
--Field Level Media