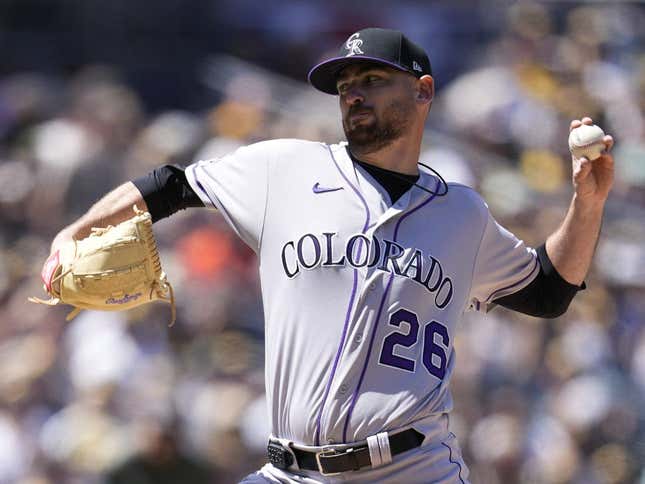 Austin Gomber knew something had to change following the 2022 season.
After a solid first season with the Colorado Rockies, he struggled last year and was relegated to the bullpen for a stretch
Gomber decided to add something to his repertoire in the offseason, so he worked on a new grip and added a two-seam, sinking fastball.
The results weren't bad in his first start of the season, as he allowed three runs on four hits in six innings in a 3-1 loss at the San Diego Padres on Sunday.
Gomber (0-1, 4.50 ERA) will see how his changes work at home when Colorado hosts the Washington Nationals on Saturday night in Denver
Washington broke out of its offensive slump in a 10-5 win over the Rockies on Friday night. The Nationals had 19 hits, including home runs by Alex Call and Jeimer Candelario to lead off the game. The two home runs matched the team's total from the first seven games of the season
It wasn't all good news for Washington, however. Luis Garcia left the game in the sixth inning after pulling up lame running out a ground ball. Manager Dave Martinez said Garcia is day-to-day with a hamstring injury.
Gomber will go against Washington right-hander Trevor Williams (0-1, 5.40) on Saturday in the third contest of a four-game series.
Gomber is one of two players on the roster who were included in the franchise-altering trade of Nolan Arenado to the St. Louis Cardinals in 2021. Elehuris Montero is getting a chance to be an everyday player while Gomber is trying to be a consistent part of the rotation.
Gomber said he thinks his work in the offseason will pay off this year.
"I haven't thrown my two-seamer at Coors yet, but I think it's going to play there," he said. "My four-seamer is not great, but it's usable on the road. At home, it gets hit. So I wanted to find a fastball that was effective in Denver."
This will be Gomber's fourth career start against the Nationals; he is 2-1 with a 6.43 ERA in those three starts
Williams also is making his second start of the season and trying to become a mainstay in Washington's rotation. He is in his first season with the Nationals and has bounced between starter and reliever the past two years
He made nine starts in 30 outings for the New York Mets in 2022 and signed a two-year deal with Washington in December. He made his Nationals debut against the Tampa Bay Rays on Monday, allowing four runs (three earned) on six hits in five innings
Williams is 2-2 with a 5.32 ERA in four career starts vs. Colorado. He is 2-1 with a 6.11 ERA in three starts in Denver.
Washington hasn't taken advantage of the new rules that have increased the odds of stealing bases. The Nationals have only two through eight games this year, but one reason is they have trailed in most games
"It's like you don't want to go out and steal a bag down three runs and then you just got thrown out and you're still down three runs," Washington's Lane Thomas said.
--Field Level Media