Austin Rivers is an easy target for the scorn of the basketblog community. And for good reason.
Rivers has often been horrible during his first three seasons in the league. He got a chance on a good Clippers team this year for no reason other than his dad is the coach and (bad) general manager. And for the most part, he hasn't been very good in Los Angeles.
But Rivers had the best game of his career today, and it came in a huge spot, as he helped the Clippers earn a 114-105 win over the Spurs, tying the series at two games apiece. Rivers scored 16 points in 17 minutes, keeping the team afloat as Chris Paul battled with foul trouble.
The Rivers scoring outburst buoyed the Clippers's typically anemic bench. Paul, of course, was great. He still played 38 minutes and scored 34 points with seven assists. Paul's counterpart, Tony Parker, scored 18 points of his own.
Outside of the two stars however, Rivers was the best guard on the court. Danny Green, Manu Ginobili, Patty Mills and even sixth-man savant Jamal Crawford all failed to match Rivers's scoring or efficiency.
G/O Media may get a commission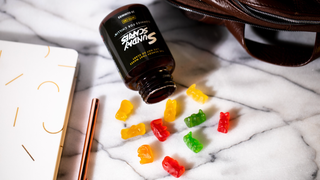 10mg CBD Gummies (22-Count)
In some ways, it wasn't a particularly special performance from Rivers. The Spurs, desperate to keep the Clippers's bigs from eating off pick-and-rolls, dared Rivers to beat them off dribble penetration. And that's just what he did. Four of his seven field goals came from within 10 feet of the basket. Rivers only missed one shot from the field, and added a couple free throws for good measure.
The Clippers certainly got some great games from their mainstays. In addition to Paul, Blake Griffin put up 20 points and 19 rebounds, while J.J. Redick worked inside and out en route to 17 points. Still, it's the performance of Rivers that can swing a game when everything gets magnified in the postseason. If he's just slightly worse—or his typical self—on a few possessions, it's likely the difference between a win and a loss.
It would be unfair—and frankly, unrealistic—to expect Rivers to keep this level of performance up for the rest of the playoffs. But if you're a fan of the goofy, maligned guy finally making an impact, or you just like some good, old-fashioned variance, then Rivers gave one of the more memorable performances of this year's first round.
Photo by Garrett Ellwood/NBAE