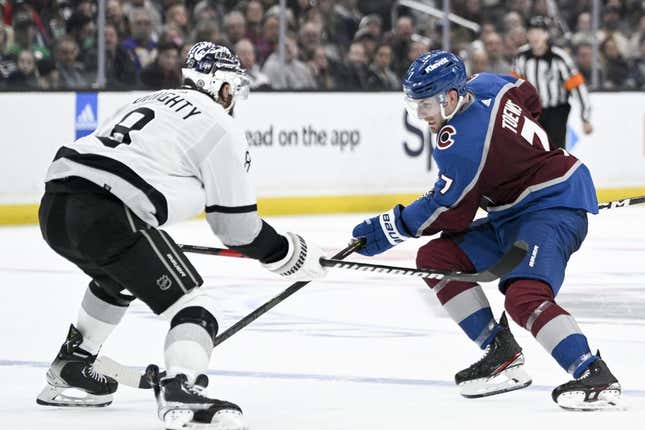 The Colorado Avalanche will look to win their franchise-record 10th straight road game when they visit the reeling Anaheim Ducks on Sunday
'Soccer fandom is full of gatekeepers' says Ted Lasso actor Brendan Hunt
The Avalanche are coming off a 4-3 win over the host Los Angeles Kings on Saturday to tie their record set during the 2009-10 season
The Ducks extended their winless streak to 10 games (0-9-1) with a 5-4 overtime loss to the host Arizona Coyotes on Saturday
The defending Stanley Cup champion Avalanche (48-24-6, 102 points) have won 13 of their past 15 games and are heading to the playoffs for the sixth straight season
The Ducks (23-45-11, 57 points) have the third-fewest points in league, one more than the Columbus Blue Jackets and Chicago Blackhawks. Anaheim will miss the playoffs for the fifth straight season
For Colorado, Denis Malgin and Alex Newhook each scored in the first 2:30 of the second period to stake the Avalanche to a 2-0 lead before the Kings tied the game at 2-2 at the 12:55 mark of the period
Defenseman Brad Hunt regained the lead for Colorado at 1:50 of the third period. Malgin scored what turned out to be the game-winning goal at 6:18 of the period.
Goalie Alexandar Georgiev made 38 saves for the Avalanche
"Ugly, but a win's a win," Colorado coach Jared Bednar said of his team's franchise record 27th road victory of the season, eclipsing the mark set during the 2013-14 season.
"Our goalie was really good. We needed him to be really good on a night like that. And we were opportunistic. Made the most of those opportunities and were able to hang on, so we'll take it and move on."
The Ducks' rally came up short against the Coyotes
Anaheim, which trailed 3-1 midway through the second period, grabbed a 4-3 lead after Max Jones scored off an assist from Derek Grant with 1:54 remaining in the third. The Coyotes, however, tied the game with 35 seconds left.
In overtime, Matias Maccelli accepted a pass from defenseman Juuso Valimaki and found a streaking Barrett Hayton, who wristed a shot between goalie Ollie Eriksson Ek's pads to end the game.
Before unleashing his game-winning shot, Hayton toe-dragged the puck around Anaheim defenseman Cam Fowler, who logged 38:55 of ice time. That set an NHL regular-season record since time on ice tracking began in the 1997-98 season.
Adam Henrique scored twice, Ryan Strome collected a goal and two assists and Jones had one of each for the Ducks
Eriksson Ek made 34 saves in his NHL debut.
"Our guys, I'm really proud of how they continue to work, how they stick together, how they're supporting each other," Anaheim coach Dallas Eakins said. "This season is a tough one, but we'll all be better for it."
Colorado and Anaheim have split their previous two meetings this season. The Ducks pulled out a 5-3 road win on Jan. 26 before the Avalanche cruised to a 5-1 in Anaheim on March 27
--Field Level Media