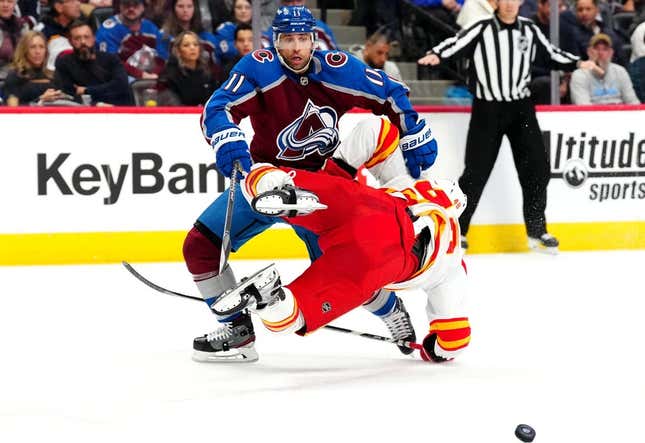 Mikko Rantanen, Nathan MacKinnon and Alex Newhook had goals, Alexandar Georgiev made 28 saves, and the Colorado Avalanche beat the Calgary Flames 4-1 in Denver on Saturday night.
Denis Malgin also scored and Valeri Nichushkin had two assists for the Avalanche, who have won five straight.
Tyler Toffoli scored, Jacob Markstrom turned away 18 shots and Nazem Kadri had an assist in his return to Colorado. Kadri played three seasons with the Avalanche and won the Stanley Cup with them last year.
For the second consecutive night, MacKinnon scored on Colorado's first shot of the game. Nichushkin passed the puck from the half-boards to MacKinnon, who stickhandled from the slot to the right circle and beat Markstrom with a snapshot at 3:05 of the first.
It was MacKinnon's 21st goal of the season.
Newhook made it 2-0 on the next shot by the Avalanche when the puck bounced off the boards to him, and he beat Markstrom with a screened shot at 8:22 of the first. It was his 13th of the season.
The Flames had a chance to cut into the lead late in the first with 22 seconds of a 5-on-3. Colorado killed off the first penalty and a Calgary minor wiped out the second power-play chance.
The Flames nearly scored early in the second period but Andrew Mangiapane hit the post on a backhander. Moments later, the Avalanche went on the power play and cashed in when Nichushkin's shot from the right circle deflected off Rantanen's glove and by Markstrom at 2:42 of the period.
It was Rantanen's team-leading 38th goal of the season.
The Flames did break through late in the second period. With Andrew Cogliano off for tripping, Calgary worked the puck around the zone to Toffoli on the left side of the net, and he beat Georgiev with a sharp-angle shot at 17:20. It was his 25th goal of the season.
Malgin restored the three-goal lead when he skated through three Flames and beat Markstrom with a wrister at 4:12 of the third period. It was his fifth of the season.
--Field Level Media