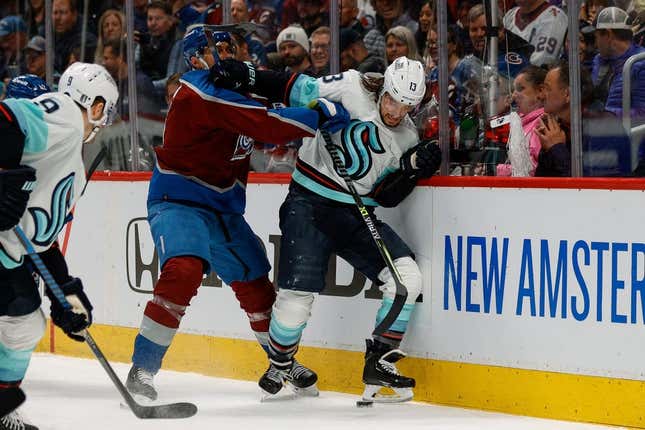 Artturi Lehkonen and Devon Toews had a goal and assist each, Valeri Nichushkin also scored and the Colorado Avalanche beat the Seattle Kraken 3-2 in Denver in Game 2 of their first-round playoff series on Thursday night
Bass' ERA stinks, but not compared to who he is off the mound | Worst of the Week Countdown
Alexandar Georgiev turned away 27 shots for the Avalanche, who evened the Western Conference series at 1-1. Game 2 is Saturday night in Seattle
Justin Schultz and Brandon Tanev scored for the Kraken, Yanni Gourde assisted on both goals and Philipp Grubauer made 38 saves
Both teams had quality chances during a physical third period, and Colorado finally cashed in off a faceoff. Nathan MacKinnon won it, and the puck eventually went to Lehkonen, whose shot got through traffic.
Grubauer made the save, but the rebound came to Toews in the first circle, and his shot to the far post at 12:59 gave the Avalanche their first lead of the series
As in Game 1, Seattle scored early. Eeli Tolvanen had the puck along the boards and passed it to Schultz as he skated into the zone; he beat Georgiev with a wrister at 2:40 of the first period.
Colorado had a chance to tie on a power play later in the period, but the Kraken struck again. Gourde chased the puck into the Avalanche zone, won a battle in the corner and fed Tanev near the blueline. His shorthanded goal gave Seattle a 2-0 lead at 13:27
Colorado got even with two goals in a span of 48 seconds. Lehkonen cut the deficit in half when he deflected Cale Makar's shot from the point past Grubauer at 6:42 of the second period.
Moments later, Nichushkin came off the bench and skated into the Kraken zone as Evan Rodrigues passed it to him. Nichushkin got ahead of the defense, stickhandled through the slot and lifted a backhander past Grubauer at 7:30 of the second
--Field Level Media