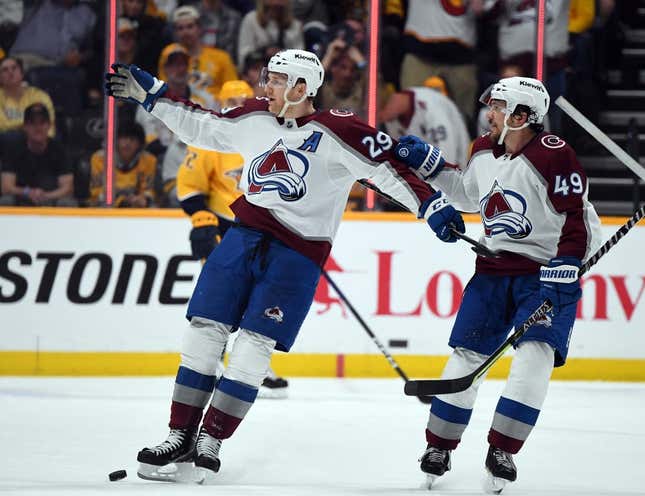 The Colorado Avalanche took a different approach to the end of the regular season than they did last year, and hope they find similar postseason results
Aaron Rodgers should go full Joe Namath | Comedian Bert Kreischer
Last spring Colorado went 4-5-1 down the stretch but it didn't matter because the Avs had already clinched the top seed in the Western Conference ... and they went on to win the title. This year the Avalanche surged in the final weeks, going 10-1-1 in their final 12 games to capture the Central Division by a point over Dallas
Their efforts snagged the No. 2 conference seed, which rewards them with home-ice advantage through at least the first two rounds of the playoffs. The Avalanche begin their defense of the Stanley Cup on Tuesday night in Denver against the upstart Seattle Kraken
Colorado struggled with injuries all season, but the Avalanche are as healthy as they're going to be for the playoffs. Team captain Gabriel Landeskog announced last week he will miss the postseason with a knee injury that kept him out all year
The good news is last year's Conn Smythe Trophy winner Cale Makar is back after missing the last seven games with a lower-body injury and Pavel Francouz is set to backup Alexandar Georgiev in net.
"I'm excited," coach Jared Bednar said. "I'm just like the players. We're looking forward to this time of the year, and also there's a sense of pride for this group. To be able to go through some of the adversity we've gone through, especially with the injuries, a lot of new players into the group, and to be able to finish at the top of the division is something outstanding for this team.
"We're proud of that, and now the hard part comes."
Seattle forward Andre Burakovsky, who helped Colorado win the Cup last year, will not be available for the playoffs. He suffered an undisclosed injury on Feb. 7 and hasn't played since, although he was projected to be back in mid-March.
"He had one setback, but we thought he could come back," Kraken general manager Ron Francis said. "But then he had the second setback, and that's when we sent him to see the specialist and he had the surgery pretty quickly after that.
Seattle has reason for confidence, reaching the playoffs and reaching 100 points in just its second year of existence, and having won the season series against the Avalanche, 2-0-1
Kraken netminder Philipp Grubauer will be tasked with shutting down his former teammates. Grubauer played three seasons in Colorado before signing with expansion Seattle ahead of the 2021-22 season. Martin Jones is also ready to see time in between the pipes
Either goalie will have to contend with the duo of Nathan MacKinnon and Mikko Rantanen, each of whom had a career year. MacKinnon finished with a team-high 111 points despite missing 11 games, and Rantanen's 55 goals set an Avalanche single-season record
--Field Level Media