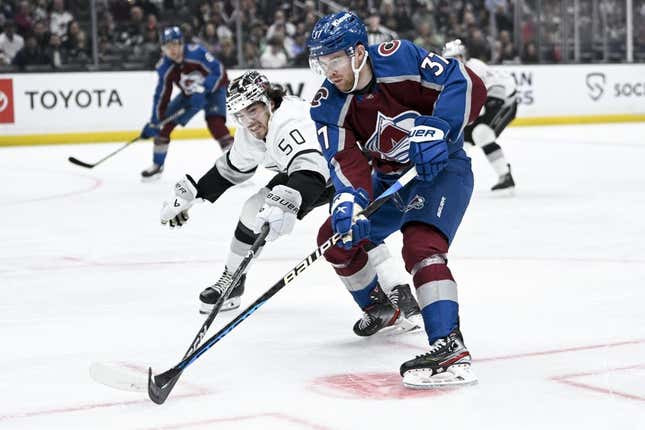 Denis Malgin scored two goals for the visiting Colorado Avalanche in a 4-3 win against the Los Angeles Kings on Saturday night
Bass' ERA stinks, but not compared to who he is off the mound | Worst of the Week Countdown
Alex Newhook and Brad Hunt also scored and Alexandar Georgiev made 38 saves for the Avalanche (48-24-6, 102 points), who have won 13 of 15 to keep pace with the Dallas Stars atop the Central Division standings
Adrian Kempe had two goals and assisted on the third, Anze Kopitar had three assists and Pheonix Copley made 19 saves for the Kings (45-25-10, 100 points), who have lost five of seven and lead the fourth-place Seattle Kraken by just two points. The Kings have two games remaining, and the Kraken have three
The Avalanche were getting outshot 19-4 when Malgin scored on a bizarre play to give Colorado a 1-0 lead at 1:28 of the second period. His shot from the point went off the glass, landed on the top of the net, hit Copley and then caromed across the goal line
Newhook scored on the next shot for the Avalanche as well, getting loose on a breakaway to give Colorado a 2-0 at 2:30
Los Angeles cut the lead to 2-1 at 7:34 of the second. Kempe won the puck in the neutral zone, skated in and slid the puck past Georgiev for his 37th goal of the season.
Viktor Arvidsson's one-timer went off the skate of Avalanche defenseman Devon Toews and into the net while Los Angeles was on a power play to tie it 2-2 at 12:55 of the second
Hunt scored with a slapshot after a faceoff win by Colorado to move ahead 3-2 at 1:50 of the third period. Malgin scored off a backdoor pass at 6:18 to extend the lead to 4-2, but Kempe scored off the rush 26 seconds later to trim the margin back to one goal.
--Field Level Media