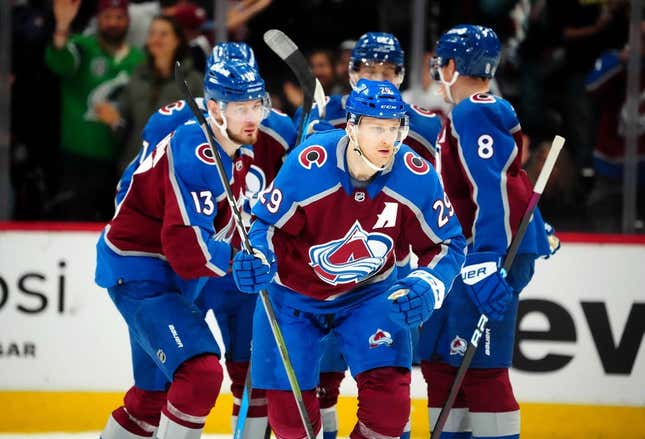 During tough stretches and playing through injuries, the Colorado Avalanche knew they had time to get things going in the right direction.
How running an NFL team is like running a restaurant | Chef Emeril Lagasse
They're running out of time to make that turn, and they know it.
Colorado has followed a six-game winning streak with four losses in the last five games and has slipped to third in the Central Division with 19 games remaining in the regular season. Before heading out on a road trip, the Avalanche will get a chance to turn things around Saturday against the Arizona Coyotes in Denver.
The Avalanche are seven points behind Dallas in the Central Division but have two games in hand on the Stars. That won't matter if things don't improve.
That was evident to coach Jared Bednar on Thursday night. The Los Angeles Kings came to Denver and outplayed Colorado for a 5-2 win. Bednar said after the loss that the attention to detail that led to a title last year has been lacking, especially against potential playoff opponents.
The four most recent losses have come against teams firmly in the playoff picture, and Bednar noted that there has been a lack of consistency in his team's motivation of late.
"It should bother all of us," Bednar said. "How do we get there? We've got to want it. We've got to want it more than we want it right now."
Injuries were one explanation for losses earlier in the season, but the Avalanche are as healthy as they've been all year despite not having Erik Johnson, Josh Manson and Pavel Francouz available.
Nathan MacKinnon has been playing at a high level, especially at home, where he has an eight-game goal-scoring streak that tied the franchise record and a 15-game point streak. Despite missing three weeks, he has 27 goals and leads the team in scoring with 77 points.
The good news is Colorado has plenty of winnable games ahead, starting with the Coyotes on Saturday. Arizona is out of the playoff picture but has won two straight -- albeit against other struggling clubs. The Coyotes were sellers at the trade deadline as they continue their rebuilding project.
There are still special moments to savor, even during a down season, and Thursday night held a couple for Arizona. Brett Ritchie, acquired from Calgary, scored in his Coyotes debut, and goaltender Ivan Prosvetov had 39 saves in a 4-1 win over Nashville.
It was the first NHL win for Prosvetov, who was recalled from the AHL earlier in the day to play in just his seventh career game.
"The first one. I've been waiting for it, I've been dreaming for it," Prosvetov said. "Obviously, I didn't expect it to come in the next week because I just woke up and I was preparing to go to Milwaukee, but it's exciting."
If Prosvetov is in net on Saturday, he can expect a desperate team trying to find a rhythm. The Avalanche took out their frustrations on San Jose on Tuesday, winning by a 6-0 margin to stop a three-game skid, before falling flat against the Kings.
--Field Level Media