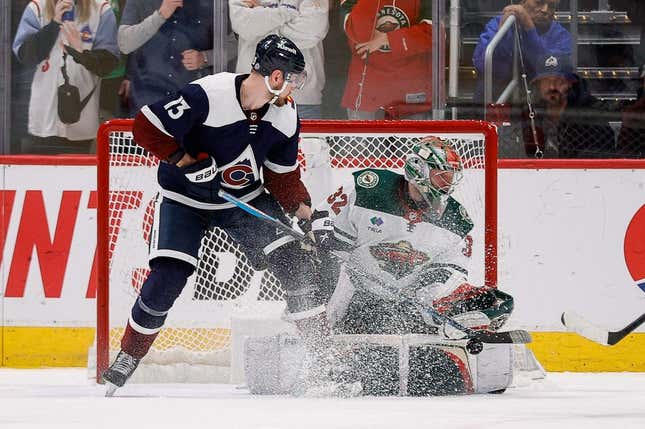 The Colorado Avalanche received the chance to gain control of the Central Division and take aim at the top seed in the Western Conference this week
Bass' ERA stinks, but not compared to who he is off the mound | Worst of the Week Countdown
With home games against the first-place Minnesota Wild and the second-place Dallas Stars, Colorado could have grabbed four valuable points and moved ahead of both teams
A sluggish start cost the Avalanche in a 4-2 loss to the Wild on Wednesday, but Colorado can rebound when it faces the Stars on Saturday night in Denver
Dallas (41-20-14, 96 points) is coming off a 5-2 road win over the Arizona Coyotes on Friday that tightened its grip on second place. The Stars are a point behind Minnesota (44-22-9, 97 points) and two points in front of Colorado (44-24-6, 94 points) with two weeks left in the regular season
Dallas and Minnesota have played one more game than Colorado.
The Avalanche have won two of their three meetings with the Stars this season, with the final matchup coming Saturday -- at least until the playoffs. Should Minnesota hold onto the top spot in the Central Division, then Dallas and Colorado likely would meet in the first round of the postseason
The Saturday outcome could help determine who has home-ice advantage for that series.
Dallas led the Central Division for most of the season before the Wild surged to the top while the Stars stumbled a bit
The Stars are 4-1-1 in their past six games, but the Saturday challenge will be tough. Puck drop is scheduled for less than 22 hours after their Friday game finished, while the Avalanche haven't played since Wednesday
The way Stars forward Jason Robertson is playing, the quick turnaround might not matter. Robertson scored his 100th career goal against Arizona and set a Dallas record for points in a season with 95
Despite playing Friday night, Stars goaltender Jake Oettinger, who made 16 saves vs. the Coyotes, is prepared to be in net against Colorado
"I played back-to-backs for three years in a row in college," Oettinger said. "Whatever they need, I'm ready. I want to play every night."
The Avalanche had won three in a row before stumbling on Wednesday against Minnesota. Colorado coach Jared Bednar said after the loss that some players were guilty of being "passengers" in the game, but he didn't call out his stars
The players understood his frustration.
"We're comfortable with our team game against anybody in the league. That's just a fact," Avalanche forward Andrew Cogliano said after Friday's practice. "But individually on any given night, if you don't compete, it's really tough to win games, especially against the best teams. I think that's what happened the other night.
While Colorado goes after the team goals, there are milestones for the players to accomplish. Mikko Rantanen needs two goals to be the first Avalanche player to score 50 in a season since Milan Hejduk did it in 2002-03
Nathan MacKinnon needs five points in the last eight games to reach 100 for the first time in his career. He had 99 points in 2018-19.
--Field Level Media