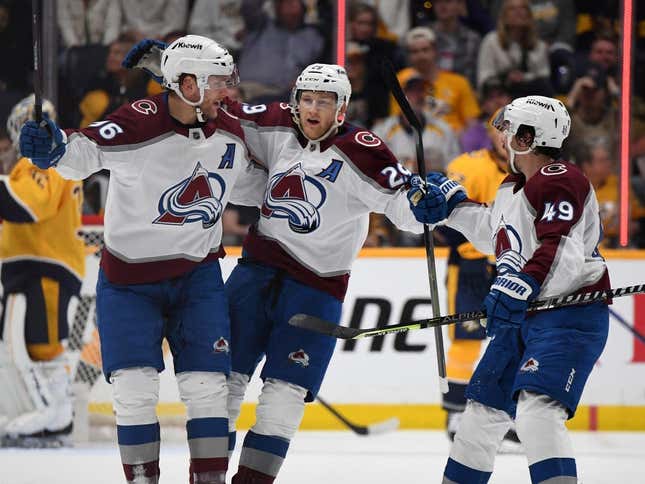 The reigning Stanley Cup champion Colorado Avalanche captured the Central Division championship by winning the last game of the regular season, a result that finalized the NHL's first-round playoff matchups
Bass' ERA stinks, but not compared to who he is off the mound | Worst of the Week Countdown
Colorado (51-24-7, 109 points) defeated the host Nashville Predators 4-3 on Friday to edge the Dallas Stars (47-21-14, 108 points) by one point in the Central race.
The Avalanche will open the postseason against the Seattle Kraken (46-28-8, 100 points), who earned a Western Conference wild-card berth in their second season
The Stars will oppose the Minnesota Wild (46-25-11, 103 points) in a matchup of the second- and third-place teams in the Central, respectively.
The West's top seed, the Pacific Division champion Vegas Golden Knights (51-22-9, 111 points), will square off with the wild-card Winnipeg Jets (46-33-3, 95 points).
The Edmonton Oilers (50-23-9, 109 points), who came in second in the Pacific, will meet the Pacific's third-place team, the Los Angeles Kings (47-25-10, 104 points).
The Eastern Conference field is headed by the record-breaking Boston Bruins (65-12-5, 135 points), who set NHL single-season records for wins and points. Their first-round foe will be the wild-card Florida Panthers (42-32-8, 92 points)
The Metropolitan Division champion Carolina Hurricanes (52-21-9, 113 points) will open the playoffs against the wild-card New York Islanders (42-31-9, 93 points). In the matchup of second and third in the Metro, the New Jersey Devils (52-22-8, 112 points) will skate against the New York Rangers (47-22-13, 107 points).
The Toronto Maple Leafs (50-21-11, 111 points), who finished second in the Atlantic Division behind the Bruins, will face off with the Atlantic's third-place team, the reigning Eastern Conference champion Tampa Bay Lightning (46-30-6, 98 points)
The Bruins-Panthers, Hurricanes-Islanders, Stars-Wild and Oilers-Kings series will open on Monday. The Maple Leafs-Lightning, Devils-Rangers, Avalanche-Kraken and Golden Knights-Jets series will begin on Tuesday
The Bruins are a prohibitive favorite among oddsmakers, listed at +325 at BetRivers, +330 at DraftKings and +330 at FanDuel
The Avalanche are the second choice (+600 at BetRivers, +650 at DraftKings, +700 at FanDuel), with the Oilers next (+700 at BetRivers, +800 at DraftKings, +900 at FanDuel)
--Field Level Media