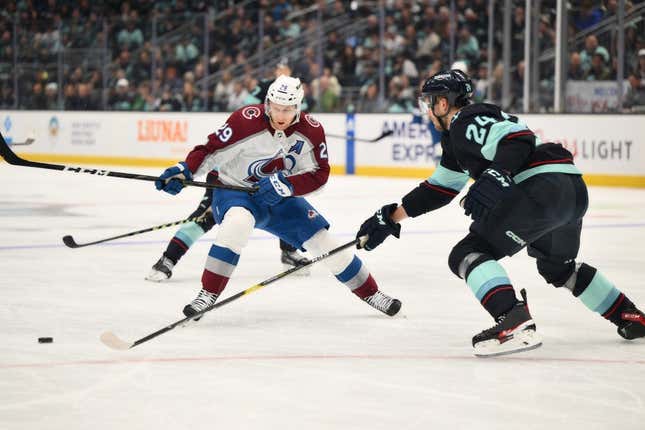 The Colorado Avalanche took back home-ice advantage in their first-round Western Conference playoff series with a 6-4 victory on Saturday night against the Seattle Kraken
Bass' ERA stinks, but not compared to who he is off the mound | Worst of the Week Countdown
The defending Stanley Cup champions can take control of the best-of-seven series with a win on Monday night, when they are back in Seattle for Game 4.
The Avalanche's stars shined Saturday, with Nathan MacKinnon scoring his first two goals of the playoffs. Defenseman Cale Makar added his first goal of the postseason after winning the Conn Smythe Trophy as the MVP of last year's championship run, and Mikko Rantanen scored twice in the third period
MacKinnon found the net after being blanked by Seattle goaltender Philipp Grubauer, a former teammate, on 15 shots on goal through the first two games.
"He was the difference-maker that we've come to expect in big games, in must-win games, in critical games, regular season or playoffs," Avalanche coach Jared Bednar said of MacKinnon. "(He) played with great speed, great competitiveness, physical, and then when he got the puck, he was really tough to check.
MacKinnon helped spoil the Kraken's first home playoff game in franchise history, which was also the first played in Seattle since the Metropolitans were in the finals against the Montreal Canadiens in 1919
"I think scoring in the playoffs on the road is awesome. It's a cool feeling, no matter how you get them. They feel great," MacKinnon said. "A lot of guys scored some big goals."
Jaden Schwartz scored twice for the Kraken and Grubauer made 28 saves
"It was a great atmosphere," Seattle defenseman Jamie Oleksiak said. "We've just got to feed off of that for a full 60."
Rantanen gave Colorado a 4-3 lead at 3:01 of the third period, sneaking a puck between Grubauer's pads, and MacKinnon scored on a wrister at 4:29. Rantanen made it 6-3 with an empty-net goal.
"Those guys are world-class players," Kraken coach Dave Hakstol said of MacKinnon, Rantanen and Makar. "We gave them too much space (Saturday). (We need to make it) a little more difficult.
Hakstol indicated Sunday that the Kraken have to be better in the faceoff dot, as they've won just 43 percent of the draws in the series
"Honestly, if I'm going to be blunt, I think we've got to be smart and cheat a little bit more," Hakstol said. "Colorado's doing a better job than us of getting away with it in the dot. That gives them the advantage, so we have to do a better job of that.
"If it's going to be allowed in the faceoff dot, then we've got to be right there with them."
The Avalanche were without winger Valeri Nichushkin, who scored the tying goal in a 3-2 victory in Game 2 in Denver, for personal reasons
Bednar was asked Sunday whether he had a timeline for Nichushkin's return and offered a terse "no."
"We'd like to have Val and (Gabriel Landeskog), two of the best wingers in the league," MacKinnon said. "Honestly, it sucks. But it's life. ... We miss him for sure."
--Field Level Media