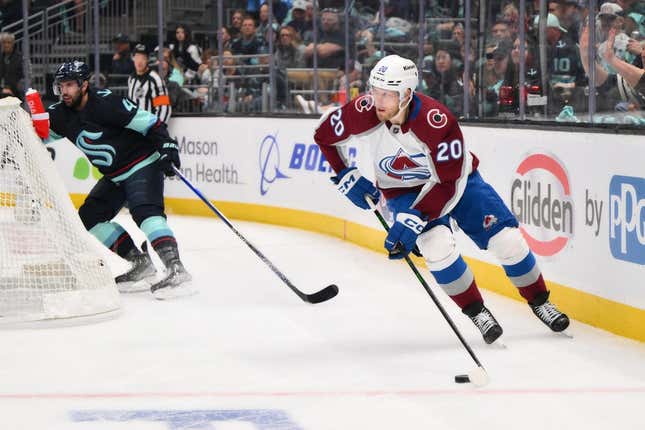 The Colorado Avalanche have a rich and mixed history with Game 7. They prevailed in the winner-take-all scenario to win the 2001 Stanley Cup, but dating back to 2002, they are 0-5 with everything on the line
Colorado gets a chance to end that skid when it faces the Seattle Kraken in Denver on Sunday night in Game 7 of a first-round Western Conference playoff series
While Colorado has played in 12 Game 7s since moving to Denver for the 1995-96 season, Seattle is playing in its first in the midst of its first postseason run in franchise history. The Kraken, in their second season of existence, have taken the reigning champions to the brink and missed a chance to close them out at home on Friday night
The Avalanche played their best game of the series in a 4-1 Game 6 win and will now try to use that momentum to advance
"It's just one game now, winner takes it all, and I think our group, hopefully the experience is going to help us," said Avalanche forward Mikko Rantanen, who had a goal in Friday's victory
Seattle has won two road games in this series, including Game 5 on Wednesday night, and the Kraken plan to feed off the success off home ice heading into Sunday
"It's a new opportunity for this group and we've been a good road team all year. That's been a strength of this team," Seattle forward Jordan Eberle said. "We've got nothing to lose."
Eberle will likely draw the ire of Colorado fans when he is on the ice. He checked Andrew Cogliano in the second period on Friday and drew a minor penalty after Cogliano went head first into the boards.
Sportsnet reported late Saturday that Cogliano suffered a neck fracture and is out indefinitely.
Avalanche defenseman Cale Makar was suspended for Game 5 for a similar hit on Jared McCann two nights before. McCann has not played since and is unlikely to suit up for Game 7
The league did not suspend Eberle, which upset Colorado.
"I don't know. I can't figure it out anymore. I don't even try," Avalanche coach Jared Bednar said of the league's decision not to take action against Eberle
Colorado will have to keep its hopes of winning back-to-back titles alive without key players. Defenseman Josh Manson (lower-body injury) didn't play Friday and is ruled out for Sunday. Darren Helm, who has played just one game in this series, is also out with an undisclosed injury.
The Avalanche are also without top-six forward Valeri Nichushkin, who has been away from the team since an incident involving an intoxicated woman at his Seattle hotel room on April 22. The team has not provided any details other than saying his absence is not injury related or for disciplinary reasons
Without Nichushkin and the lack of production from the third and fourth lines, the top six have been forced into heavy minutes. Rantanen, Nathan MacKinnon and Arturri Lehkonen logged plenty of ice time Friday night to avoid elimination, and they will likely do so again in Game 7.
They will have to square off against a determined Kraken team
"I know where we're at, and what our belief is, and I know we're ready to go," Seattle coach Dave Hakstol said. "It's all on the line. It's a seven-game series, right?"
--Field Level Media