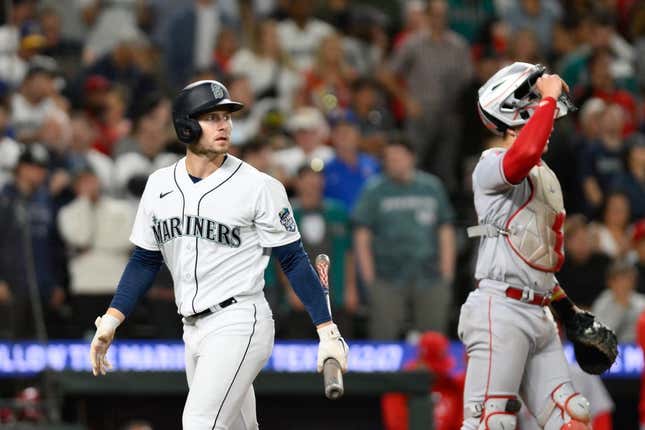 Jarred Kelenic called his time on the injured list a "timeout."
Which seemed appropriate, since it was a temper tantrum that cost the Seattle Mariners' outfielder nearly one-third of the season with a fractured foot.
How running an NFL team is like running a restaurant | Chef Emeril Lagasse
Kelenic went 1-for-5 with two strikeouts in his return Monday night as the Mariners lost 8-5 to the visiting Los Angeles Angels in 11 innings, knocking Seattle (79-65) a half-game behind Texas in the chase for the American League's third and final wild-card berth.
The Angels and Mariners will continue their three-game series Tuesday night.
Kelenic hadn't played since July 19, when he kicked a water cooler after a ninth-inning strikeout. He broke down in tears while addressing teammates the next day.
"I was basically put on a timeout for the last month-and-a-half because of something that I did," Kelenic said Monday. "It made me realize that something I did affected not only just me, but affected my teammates, affected fans and the whole organization. And it's something that I'll never do again, because of how much it hurt inside. It makes me realize how lucky I am to be out here and play every single day. I took it for granted a little bit there.
"Ever since I was a little kid, I wanted to be out here playing in the big leagues, and here I am. When you do something stupid like kicking a cooler, and you get put on a timeout, it makes you ... think a little bit."
After the injury, Mariners manager Scott Servais said it could be a pivotal moment in the 24-year-old's career.
"It hasn't been an easy ride for Jarred," Servais said. "It has been a serious roller coaster. ... I hope he's better off for it. I hope he comes out, gives us a great effort, good at-bats and doing what he can to help us on the field."
Despite Julio Rodriguez reaching the 30-30 plateau with a tying two-run homer in the 10th inning, the Mariners suffered their fourth straight loss.
Logan O'Hoppe doubled, hit two home runs and had three RBIs and Brandon Drury also went deep as the Angels (68-77) won their third consecutive game.
Designated hitter Shohei Ohtani was scratched from the lineup and missed his eighth consecutive game with a strained oblique.
"He warmed up, went through all his treatment, took some swings in the cage, and he just doesn't quite feel 100%," Angels manager Phil Nevin said. "And I understand that. He came to me and said 'Today is not the day yet.'"
Nevin said Ohtani could be back in the lineup during the series in Seattle.
"He feels confident that it's any day now," Nevin said. "He wants to play, that's the key."
Tuesday's pitching matchup will feature Angels left-hander Patrick Sandoval (7-12, 4.31 ERA) against Mariners rookie right-hander Bryan Woo (2-4, 4.50).
Sandoval has lost his past two starts, including 10-3 Wednesday against Baltimore when he allowed seven runs — four earned — on seven hits in five innings.
Sandoval is 0-4 with a 3.18 ERA in eight career starts against the Mariners. He lost to visiting Seattle on June 10 when he allowed five runs on 10 hits over five innings.
Woo has had a couple of extra days off since his last start, a defeat Sept. 4 at Cincinnati when he gave up five runs on four hits in five innings. Woo is 0-0 with a 3.38 ERA in two lifetime starts covering 10 2/3 innings against the Angels.
—Field Level Media