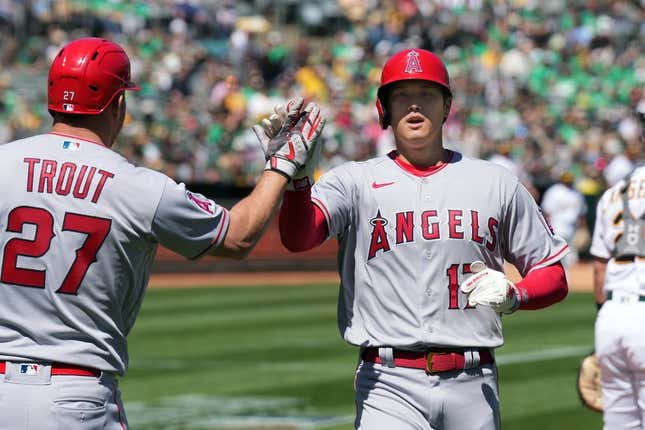 As Shohei Ohtani and Mike Trout exhibited in the World Baseball Classic, they're capable of putting on quite a show.
Does Jimmy Butler have the best NBA Finals origin story? | Agree to Disagree
In a dramatic matchup, Ohtani struck out Trout for the final out last month in Japan's 3-2 victory against the U.S. in the championship game.
As teammates instead of rivals, they put on a power display on Sunday, hitting back-to-back homers that combined to travel an estimated 881 feet in the fifth inning of the Los Angeles Angels' 6-0 victory at Oakland
After scoring just once in losing their season opener, the Angels put up 19 runs over the final two games and will look to continue that trend when they open a three-game series Monday night in Seattle
Rookie catcher Logan O'Hoppe hit a three-run homer in the fourth to open the scoring before Trout and Ohtani doubled up an inning later.
"I think I like it," Angels manager Phil Nevin said with a smile when asked about the homers. "Mike has hit the ball on the screws. I think he's hit at least six or seven balls over 105 mph and had only one hit coming into this. So it was good to see him really get into one. Shohei's at-bats have been great, too. I think when those guys are going, we're going to be OK.
Trout went 3-for-4 with a double, homer and two RBIs Sunday and is hitting .364 (4-for-11) through three games. His two-run shot came on a 1-1 fastball from A's rookie Ken Waldichuk and went an estimated 434 feet to straightaway center.
Ohtani launched Waldichuk's next pitch, a slider down and in, an estimated 447 feet to right-center.
"We're swinging at the right pitches," Nevin said. "If we do that, we're good enough and talented enough to score a lot of runs."
Ohtani went 4-for-12 with three RBIs in the opening series. Two of his hits were grounders through the right side of the infield that likely were aided by baseball's elimination of the shift that allowed opponents to position three infielders between first and second base against him in the past.
"I felt like the shift gave left-handed batters a huge disadvantage," Ohtani said through an interpreter. "But now we're on an even playing field hitting-wise."
The Mariners lost three of four games in their season-opening series against Cleveland, including 6-5 Sunday in 10 innings. The deciding run scored on catcher Cal Raleigh's throwing error as he attempted to complete an inning-ending 1-2-3 double play
Julio Rodriguez homered on the first pitch in the bottom of the first inning, but the Mariners gave up leads three times
"Not the way we were hoping to start the season," Mariners manager Scott Servais said. "We play in a lot of close games, and the reason we've been on the successful side and winning a lot of those is because we play clean
"What happens in these late-inning games or extra-inning games, it's often times not the team that wins it, but maybe the other team loses it. That's how I felt we did (Sunday) -- we gave them the ballgame. But they put themselves in position to capitalize, and they were able to do it."
Angels left-hander Reid Detmers (7-6, 3.77 ERA last season) is scheduled to start Monday against M's righty George Kirby (8-5, 3.39). Detmers is 2-0 with a 2.45 ERA in three career starts against Seattle; Kirby is 2-2 with a 3.04 ERA in four starts vs. the Angels
--Field Level Media