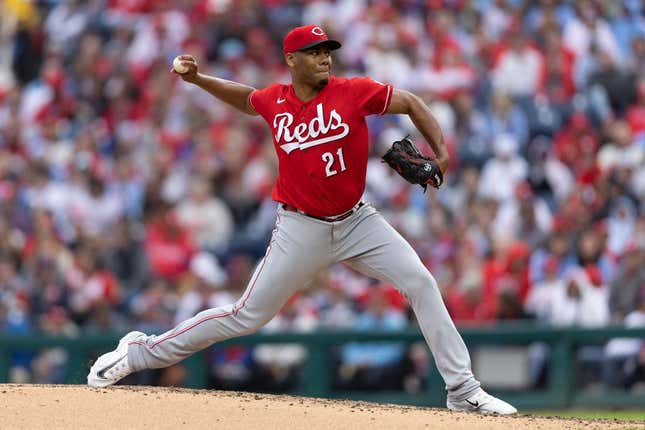 Baseball's hottest team is back on the winning track after a slight hiccup, and the Tampa Bay Rays will look to begin a new winning streak when they visit the Cincinnati Reds on Monday night in the opener of a three-game series
Bass' ERA stinks, but not compared to who he is off the mound | Worst of the Week Countdown
After winning 13 straight to open the season, the Rays dropped a pair of games in Toronto before salvaging Sunday's series finale
The Reds, who have lost five of their last seven, will be looking to rebound from their worst loss of the season, a 14-3 thrashing at the hands of the Philadelphia Phillies on Sunday. The Reds surrendered 23 hits and had their starting third baseman Spencer Steer leave in the ninth inning holding his side after diving for a ground ball
The Rays will send lefty Jalen Beeks (0-0, 3.00 ERA) to the mound in the series opener. Beeks is making his fifth appearance of the season, including his second start as an opener. He started last Monday against the Boston Red Sox, striking out two in two scoreless innings
The Reds counter with right-hander Hunter Greene (0-0, 5.14). The Reds have lost all three of Greene's starts this season, including last Wednesday's in Atlanta. Greene struck out 10, allowing three runs on seven hits in six innings in a 5-4 loss to the Braves
Greene is facing Tampa Bay for the second time in his career after holding the Rays to one run on three hits over six innings last July. He struck out nine and received a no-decision in Cincinnati's 5-4 win in 10 innings
Tampa Bay infielder Taylor Walls hit his first homer of 2023 in Saturday's 5-2 loss and is batting .281 in 11 games. Walls has started showing significant improvement on offense. Through his first two seasons, the switch hitter hit just .182 with nine home runs.
"We don't come to the field (believing it's) OK to lose," Walls said. "We hate losing probably more than we love winning, so that's never the goal. Everybody in the clubhouse is going to come in (every day), and the last thing on our minds is going to be coming out with a loss."
Walls has earned more playing time in the middle infield because of his improvement at the plate.
"He's had good at-bats," Rays manager Kevin Cash said. "We were all very confident at the end of last year that he was not the hitter that was maybe displayed throughout the 2022 season.
With Christian Bethancourt's fifth-inning homer Sunday, the Rays extended their home run streak to begin the season to 16 games, the second-longest such streak in major league history. Seattle homered in 20 straight to open the 2019 season
Joey Votto said before Sunday's game with the Phillies that he is making progress from major left shoulder and bicep surgery last August.
On Saturday, he halted his Triple-A Louisville rehab assignment after batting just .184 (7-for-38) with one home run, six walks and 21 strikeouts.
"My swing is not there yet," the 39-year-old Votto said. "There's some strength and range of motion stuff. It's totally normal. I feel so much better. Relative to the beginning of spring, a month ago, three months ago, I think I'm doing excellent. It was ambitious to attempt to make Opening Day. I didn't perform well in Louisville and that was (because) I was missing middle pitches, and that was entirely because of my arm."
After waiting at least five days, Votto could resume playing games for Louisville. Votto and the organization would then be permitted to restart the clock for a new 20-day rehab assignment.
--Field Level Media