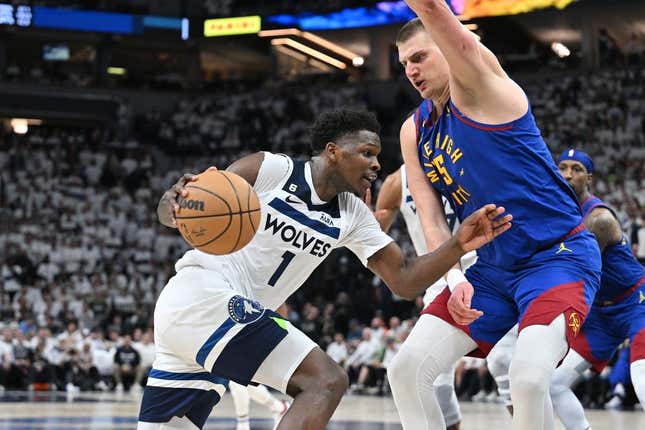 The Denver Nuggets took care of business Friday in their first road game of the playoffs
Bass' ERA stinks, but not compared to who he is off the mound | Worst of the Week Countdown
Now the top seed in the West has a commanding 3-0 lead and can advance to the conference semifinals by beating the host Minnesota Timberwolves in Game 4 on Sunday night in Minneapolis
"They handled their business like they're supposed to," Nuggets coach Michael Malone said of his players, "like mature teams do.
The Nuggets rolled to a 29-point win in Game 1 and had a comfortable nine-point margin in Game 2. They knew the Wolves would be fired up by their home crowd and play with a sense of desperation in Game 3, and they were ready for it
"We didn't want to give them life," said two-time reigning MVP Nikola Jokic, who had a triple-double -- 20 points, 12 assists and 11 rebounds after Denver's 120-111 win. "We wanted to be the aggressor. We wanted to punch them first."
Denver withstood Minnesota's emotional start to forge a 28-all tie after one quarter. Then it made 12 of its first 16 shots in the second quarter and led by as many as 13 points before settling for a 61-55 halftime lead.
The Nuggets never let the Wolves catch up in the second half. Denver shot 57 percent from the floor and its bench outscored Minnesota's bench 29-10, led by Bruce Brown's 12
"No disrespect to the T-wolves; this is about us," Malone said, "but we don't want to go back to Denver. We know to close out a series a lot of times can be the hardest game.
"I'm hoping that we can find a way. Don't have a mindset of, 'Hey, we can just go back and close it in Denver.' Our mindset should be to close it in Game 4."
The Wolves got another outstanding performance from Anthony Edwards, who scored 36 points and is averaging 31.7 in the series. Karl-Anthony Towns, who had just 21 total points in Denver, broke out with 27 and Rudy Gobert had 18 points and 10 rebounds.
"We couldn't get enough stops in a row. And when we did ... our decision-making on offense just kind of let us down," coach Chris Finch said.
Guard Mike Conley, who scored 12 points, said the loss was a game the Wolves "would love to have back."
If Minnesota is going to force a Game 5, it will have to play its best game in a series in which it has outscored the Nuggets just once in 12 quarters
The Wolves got within five points on three occasions during the final six minutes but couldn't get any closer.
"This game really hurt," Towns said. "Just got to execute at a higher level if we want to reach that level."
The Wolves perhaps can take some hope from the fact that they won twice at home against Denver during the regular season -- by 30 and 13 points. But obviously this is a much different situation after the way the first three games have gone.
"Obviously it's back against the wall," Conley said. "All the way against the wall."
--Field Level Media