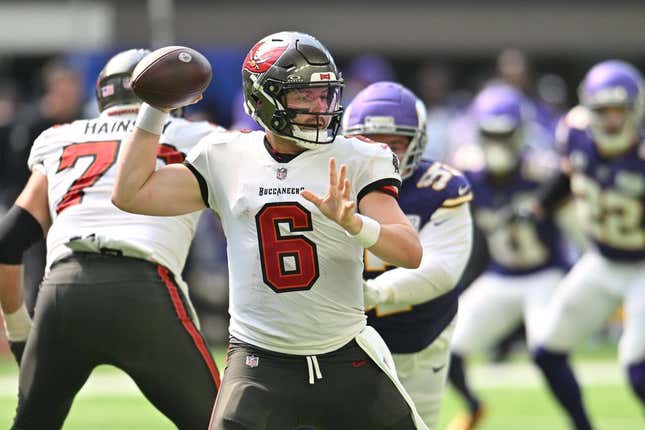 Quarterback Baker Mayfield carries the "mentality of an offensive lineman," Tampa Bay Buccaneers coach Todd Bowles said.
How running an NFL team is like running a restaurant | Chef Emeril Lagasse
Chicago Bears quarterback Justin Fields, meanwhile, admits he "was a little bit too conservative at times" during last week's season opener.
The two signal-callers with different Week 1 results but a shared sense of something to prove will square off Sunday as the Buccaneers (1-0) host the Bears (0-1).
A full participant in Wednesday's practice, Mayfield nonetheless was listed on the team's first injury report of the week with an ailment to his right (throwing) shoulder.
Mayfield stumbled out of the gate in his team debut at Minnesota, completing just 3 of his first 11 passes. But he recovered to finish 21 of 34, highlighted by a 28-yard touchdown pass to Mike Evans late in the second quarter.
Mayfield hit Trey Palmer for a go-ahead touchdown pass late in the third quarter, and Chase McLaughlin's 57-yard field goal with 5:10 remaining provided the final margin in a 20-17 victory versus the Vikings.
Successfully reading Minnesota's defensive signals provided a boost, Mayfield said. It wasn't the sole reason for his turnaround, but he said it helped "quite a bit."
"When it comes down to that, you're always trying to find tendencies of the defense," Mayfield added. "Just those in-game adjustments, you're trying to find those tendencies and sometimes it's a little different than others. ... It took us a little bit to adjust but you try to find every advantage possible."
Chicago is coming off a 38-20 home loss to Green Bay last Sunday. After anticipating a possible changing of the guard against their longtime rival after a busy offseason - plus the Packers' trade of quarter Aaron Rodgers to the New York Jets — the Bears instead lost their 11th straight game dating to last season.
Fields finished 24-of-37 passing for 216 yards with one touchdown and an interception while rushing for 59 yards. The team also didn't seem to get a firmer grasp on his development as a passer. Fields completed just two passes for 25 yards to receiver DJ Moore, whom Chicago acquired from the Carolina Panthers in a deal for the No. 1 overall pick of the 2023 NFL Draft.
Chase Claypool, an in-season acquisition in 2022, was targeted twice but had zero catches. Darnell Mooney was Chicago's leading receiver with four catches for 53 yards and a touchdown.
Fields knows he must be more aggressive downfield for the offense to succeed.
"Definitely with guys like DJ and Chase on the outside, if we do have one-on-one on the outside, potentially throwing it up and seeing what happens," he said. "With them, they're great playmakers and they can most likely come up with a 50-50 ball. Definitely want to give them more chances deep down the field."
Tampa Bay and Chicago last met on Oct. 24, 2021, with the Bucs cruising to a 38-3 victory.
Khalil Herbert, then a rookie, provided a bright spot with 100 yards on 18 carries, but the defense didn't register a sack of then-Tampa Bay quarterback Tom Brady. Evans caught three of Brady's four touchdown passes on the day.
Chicago's Kyler Gordon (hand) did not participate in practice on Wednesday, while fellow defensive back Josh Blackwell (hamstring) and linebacker Dylan Cole (hamstring) were limited.
Buccaneers defensive backs Carlton Davis (toe) and Christian Izlen (concussion) as well as defensive tackle Calijah Kancey (calf) did not practice on Wednesday.
—Field Level Media