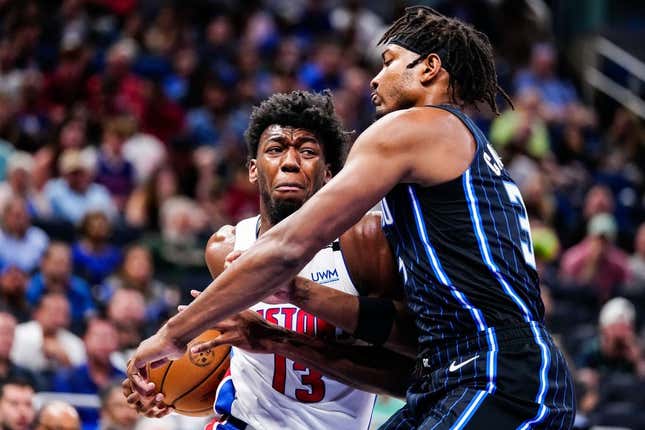 Jalen Suggs led eight Orlando players in double figures with 18 points as the host Magic handed the Detroit Pistons their ninth straight loss, 128-102, on Sunday night
Bass' ERA stinks, but not compared to who he is off the mound | Worst of the Week Countdown
Cole Anthony had 17 points and six rebounds for Orlando, which tied its season high with 17 3-pointers and shot 57.3 percent from the field. Franz Wagner had 16 points, eight assists, five rebounds and three steals while Paolo Banchero and Wendell Carter Jr. each had 14 points and nine rebounds.
Markelle Fultz and Moritz Wagner each added 11 points for Orlando (34-44), which has won six of its last eight games and its last five home games.
The Pistons (16-62) have lost 23 of their last 25 games. They were led by Killian Hayes, who had 20 points and seven assists. Eugene Omoruyi supplied 19 points and Jaden Ivey had 14 points with six assists. James Wiseman added 12 points and 10 rebounds and Isaiah Livers chipped in 10 points
Detroit had a one-point lead two minutes into the game. Carter then knocked down a 3-pointer and the Magic never trailed again
The Magic led 34-29 after the first quarter, then blew the game open by outscoring the Pistons 29-15 in the second quarter
Orlando began the second with an 11-1 run that included five points and two assists from Anthony.
A 12-0 run gave Orlando its biggest lead of the half at 57-33. Suggs had five points during that spurt, including a pair of free throws after Ivey was assessed with a flagrant foul. Franz Wagner finished it off with a jumper.
The Pistons' last six points of the half came on free throws. They shot just 32.5 percent from the field before the break, while the Magic made 56.1 percent of their field-goal attempts
After Detroit pulled within 15 points during the first two minutes of the second half, Orlando went on an 8-0 run. Fultz capped it off with a 3-pointer to make it 76-53.
Orlando ended the quarter with a 91-68 advantage.
Detroit shot just 41.0 percent for the game.
--Field Level Media