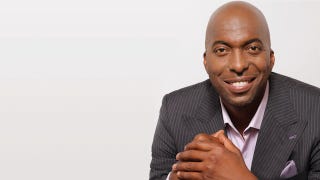 Most of you probably know John Salley from his 2009 breakout performance in Confessions of a Shopaholic. But — as it turns out — John is actually a really famous, and incredibly accomplished basketball superstar. "Four championship rings, with three different teams, in three different decades and two different millenniums," will kind of do that to a guy.
Since retiring from the game in 2000, John has committed himself to a whole slew of ventures, from cohosting the Emmy-winning The Best Damn Sports Show Period, to partnering with Natural Products Solutions to become the face and spokesperson for VirMax, a line of men's health and wellness supplements.
Considering all his varied accomplishments, we figured John would be the perfect person to assist in answering your questions about life on — and off — the court. That's why, with the aid of our helpful friends at State Farm, he'll be here on the site for the next hour.
So, on your mark, get set, ask John Salley what his favorite vegan breakfast food is!