Ahmad Dixon and Antwan Goodley both play football at Baylor University, and they both seem like pretty rad dudes. Rad enough to go to Whataburger and take shirtless pictures with random fans at 3 a.m., at least.
A reader writes in to tell us how the picture above came to exist:
I just had a hell of a night with Ahmad Dixon, our All-American safety. I was up at 3am writing a paper due today and decided to tweet Ahmad to see if he wanted Whataburger. He actually replied and then texted me so I went and picked up him and Antwan Goodley (best wr in Big 12). We went to whataburger and then came back to my place where they shared all these ridiculous stories and we hung out. Then Ahmad decided he wanted to go around to all of my pledge brothers' house to wake them up. Basically, Ahmad is a total badass and loves the fans.
And he sent more pictures! Here's the whole gang on their way to Whataburger. I'm a big fan of that kid in the back, who decided that the occasion was too momentous to go with "cool-guy picture face," and went all smiles instead:
G/O Media may get a commission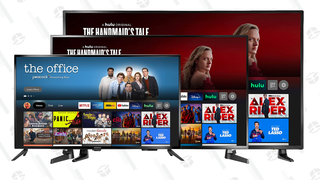 Up to 44% off
Prime Early Access - Insignia Fire TVs
Just some guys relaxing on the couch:
And here's one for the mantle:
College is fun.