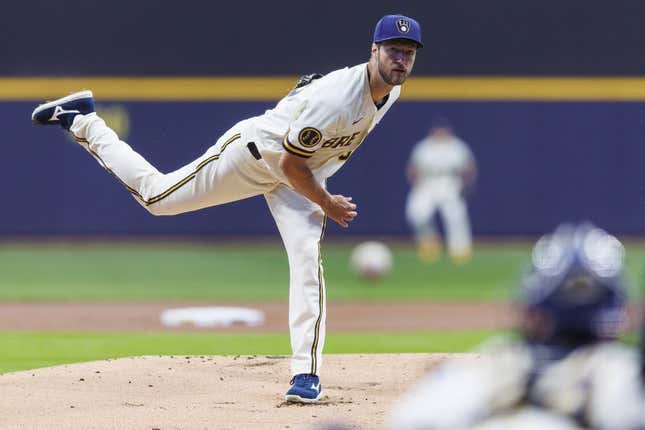 Right-hander Colin Rea will look to help the Milwaukee Brewers complete a three-game sweep of the visiting Angels on Sunday but will have to keep Los Angeles slugger Mike Trout in the ballpark
Are the Oakland A's a failed state? | Agree to Disagree
Milwaukee held off the Angels 7-5 on Saturday night despite a pair of late two-run homers by Trout, who added a sacrifice fly to drive in all of the Angels' runs. Corbin Burnes allowed one run over six innings for the Brewers, who were outhit 11-5 but capitalized on walks and an error
Rea (0-1, 5.17 ERA), called up from Triple-A Nashville when Brandon Woodruff went on the injured list, will make his fourth start for Milwaukee. The Angels will start a left-hander for the third consecutive game against the Brewers, turning to Jose Suarez (0-1, 10.26)
Rea was hurt by lack of command in his last start, giving up four runs on five hits with four walks over five innings in a 4-2 loss to the Detroit Tigers on Monday.
"That's what happens in a big-league inning when you issue three free passes in one inning," Brewers manager Craig Counsell said after Rea's last start. "There's going to be a number on the board. That's going to be a bigger number if you've got three walks in an inning, chances are.
Rea, who pitched in Japan last season, has never faced the Angels
Trout had two-run homers in the eighth and ninth innings Saturday, giving him seven home runs for the season. It was the 25th multi-homer game of his career.
It also forced the Brewers to use closer Devin Williams for the final out Saturday. Williams also pitched a scoreless ninth to preserve a 2-1 victory Friday night, so he likely is unavailable for Sunday
Trout has hit safely in 10 of his last 11 games, with four doubles, four homers and nine RBIs.
Rookie shortstop Zach Neto, the Angels' first-round draft pick in 2022, was in the leadoff spot Saturday for the third time since being called up April 15. Neto had two singles and also was hit by a pitch for the seventh time
Angels manager Phil Nevin said he was not concerned with the number of times Neto's been hit
"Guys get hit. He's getting hit in spots; he wears protection on the spots that are vital. That ball just hit him in the forearm -- he's going to be fine," Nevin said. "I know he's been hit a few times, but nobody's throwing at him. He told me he's been hit in college, he got hit in high school. Nothing's changed now."
Suarez was rocked for five homers in his last outing but did not get the decision in an 11-10 loss to Oakland on Monday. He allowed seven runs on eight hits in five innings, his longest start of the season.
Suarez has given up 20 runs, 19 earned, on 29 hits in 16 2/3 innings. He has never faced the Brewers
--Field Level Media