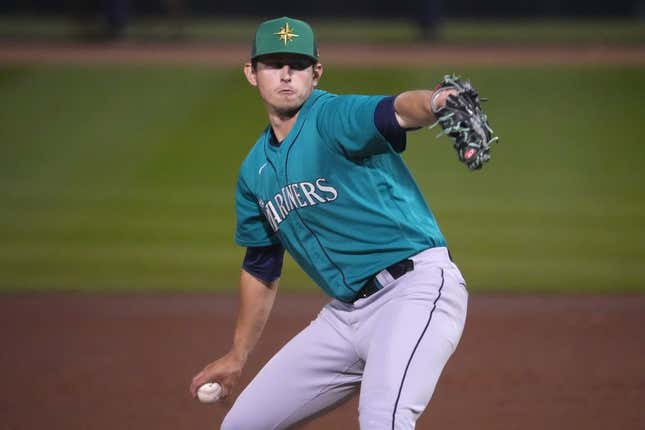 The Seattle Mariners never sent a starting pitcher to the injured list last season, when they snapped a postseason drought that had dated to 2001
Bass' ERA stinks, but not compared to who he is off the mound | Worst of the Week Countdown
This year, they made it through only two games before left-hander Robbie Ray was placed on the 15-day IL with a Grade 1 flexor strain in his left forearm/elbow.
Ray would have started Wednesday afternoon against the Los Angeles Angels' Shohei Ohtani (0-0, 0.00 ERA). Instead, the Mariners will send right-hander Chris Flexen (0-0, 2.25) to the mound in the finale of the three-game series in Seattle between the American League West rivals
"We talked about how fortunate we were last year that we stayed healthy in our rotation," Mariners manager Scott Servais said. "It was key. Fortunately for us, we have Chris Flexen. That's certainly why you hang on to go guys, just knowing how valuable they can be throughout the course of the year. So Flex will step in and take the ball in Robbie's turn.
This is Ray's first trip to the injured list for an arm issue since he made his major-league debut in 2014.
Ray struggled in his first start of the season last Friday against Cleveland, allowing five runs (three earned) on four hits and walking five in 3 1/3 innings of the Mariners' 9-4 loss
"It's frustrating, especially because I felt really good," said Ray, who won the AL Cy Young Award in 2021 while with Toronto. "Even in my pregame bullpen, I felt really good. I was hitting my spots, my fastball was coming out good with a lot of life, and my slider was sharp. It's definitely frustrating."
Flexen went 14-6 with a 3.61 ERA in 31 starts for the Mariners in 2021. He started last season in Seattle's rotation before being sent to the bullpen when Luis Castillo was acquired from Cincinnati just before the trade deadline. Flexen finished the year 8-9 with a 3.73 ERA
He is 3-1 with a 3.27 ERA in eight career appearances against the Angels, including seven starts. He won't have an easy time opposing Ohtani, the 2021 AL MVP, who is 4-0 with a 1.66 ERA in six career starts against Seattle
Ohtani didn't get a decision in the Angels' 2-1 loss at Oakland on Opening Day despite pitching six scoreless innings. The right-hander allowed two hits and struck out 10
"I think he would've been even more unhittable if he had the PitchCom in the first inning," said Angels catcher Logan O'Hoppe, referring to an early malfunction with the pitch-calling mechanism. "We had to stick with the slider and cutter and couldn't really go with the split. But I thought he was unhittable the whole outing.
Seattle evened the series with the Angels on Tuesday with an 11-2 victory as newcomers Teoscar Hernandez and AJ Pollock each hit two home runs and combined for nine RBIs. Hernandez was acquired in an offseason trade with Toronto, while Pollock was signed as a free agent
Angels manager Phil Nevin already was looking ahead to Wednesday after the blowout loss
"We got a chance to win a series of a really nice road trip and then go home," Nevin said.
The Angels will host Toronto in a three-game series beginning Friday
--Field Level Media