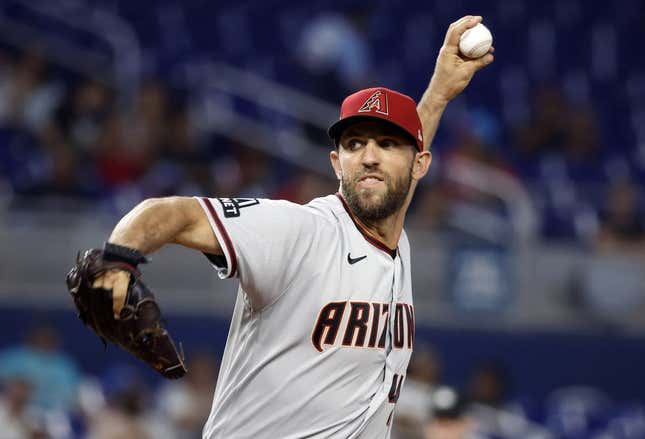 After battling arm fatigue and inconsistency through his first three starts, Diamondbacks left-hander Madison Bumgarner will try to reaffirm his standing in the Arizona rotation Wednesday
Bass' ERA stinks, but not compared to who he is off the mound | Worst of the Week Countdown
Bumgarner will start for the Diamondbacks, who go for a three-game road sweep of the host St. Louis Cardinals
The Diamondbacks won 6-3 Monday and 8-7 Tuesday
In his previous start, Bumgarner (0-2, 7.90 ERA) suffered a 5-1 loss to the Miami Marlins on Friday. He allowed nine hits, and all five runs came in the fourth inning.
"I think if you add everything up yesterday, there were four scoreless innings," Diamondbacks manager Torey Lovullo said Saturday. "I felt like he threw the ball well enough. I know I was asked a question, is he going to get another start? He will. It's really business as usual as far as I'm concerned
"I think at times he becomes a little one-dimensional glove-side and I think he did a pretty good job making pitches in different areas and different quadrants of the zone."
Lovullo moved Bumgarner's last start back two days to give him additional time to recover from throwing 103 pitches in his previous start, a game the Diamondbacks won 6-3 against the Los Angeles Dodgers on April 7
"I don't think it was a perfect setting for him between the last start of (103) pitches and getting on the mound here in Miami," Lovullo said. "If it was a mistake, it was probably on me. Medically there was nothing that we felt like was going to hinder him. He probably could have used a little bit more rest."
Bumgarner hinted to the Arizona Republic that he was dealing with more than the normal fatigue.
"There was a lot going on in between the last start and this one," Bumgarner said. "It wasn't quite as smooth as it may have looked just getting a couple of extra days."
Bumgarner has had a tough time against the Cardinals during his career. He is 5-7 with 5.46 ERA in 15 career starts against them
Cardinals first baseman Paul Goldschmidt -- the player Bumgarner has faced most often in his career with 90 plate appearances -- has hit the lefty especially hard (26-for-76, 12 walks, five doubles, two triples, four homers, 16 RBIs). Switch hitter Tommy Edman is better from the right side, and he is 4-for-11 with three walks, a double, a triple and two RBIs against Bumgarner
The Cardinals will counter with Jake Woodford (0-2, 5.65), who threw 5 1/3 innings in his last start as St. Louis shut out the Pittsburgh Pirates 3-0. Woodford allowed seven hits and a walk while striking out three en route to a no-decision
"He did a nice job, when you look at what he's trying to do," Cardinals manager Oliver Marmol said of Woodford. "What gave him success in the spring was his ability to keep the sinker down. And he did a nice job with that. He had some soft singles and some hard contact that was right at people. But the combination of the slider and that played.
Cardinals infielder Brendan Donovan is questionable for this game after being scratched from Tuesday's lineup due to a left shin abrasion. Third baseman Nolan Arenado is expected to be back in the starting lineup after being limited to pinch-hitting duty Tuesday
--Field Level Media