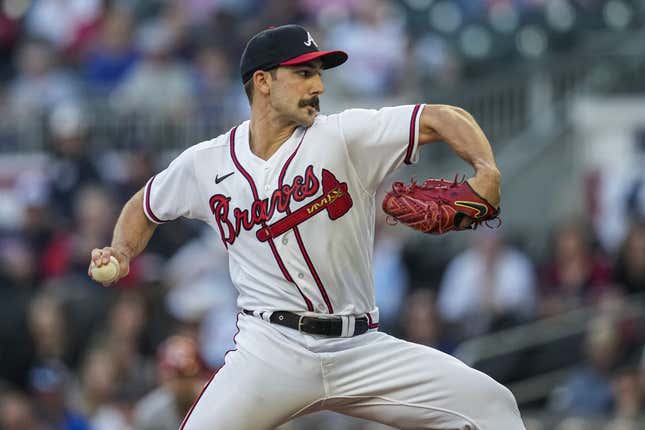 The Atlanta Braves are on a roll
The San Diego Padres are just getting rolled
"We're playing good baseball as a unit," Braves manager Brian Snitker said. "We're getting solid pitching from our starters and bullpen. We're scoring early, which makes it easier.
Bass' ERA stinks, but not compared to who he is off the mound | Worst of the Week Countdown
"We're going through one of those things," Padres manager Bob Melvin said. "We get into position with a chance and we don't come through. We're going through a funk. We're seeing quality pitching in starters and the bullpen. We have to fight our way out.
Just over a week ago, the Padres won three of four in Atlanta to spoil the Braves' home-opening series. Since then, the Braves have won seven straight games, and the Padres have gone 2-6 while getting shutout three times -- including the last two games
The teams will meet again Tuesday night in San Diego in the second game of a three-game series.
Melvin is not surprised by the success of the Braves, who won 2-0 on Monday night
"Atlanta is a pretty good team that was playing well before we played them, and they're playing well again," the manager said. "They're one of the better teams in all of baseball. They can beat you in many different ways. We're getting three really good starters this time."
During the series in Atlanta, two of the four Braves' starting pitchers were rookies. This week, it's Max Fried followed by Spencer Strider followed by Charlie Morton
Tuesday night's pairing will match the right-handed Strider (1-0, 3.38 ERA) against Padres left-hander Blake Snell (0-2, 6.92)
Actually, it's a rematch. Strider and Snell were the opposing starters in the Braves' home opener in Atlanta on April 6. The Braves won 7-6, and neither pitcher figured in the decision
Strider allowed three runs on four hits and three walks with nine strikeouts in five innings. Snell gave up four runs on six hits and four walks with two strikeouts in 3 2/3 innings. Each gave up a home run.
This will be the fourth start of the season for Strider and Snell.
After shutting out Washington on three hits over six innings in his first start, Strider has had nearly identical lines in his past two starts against the Padres and Reds. The only difference is he issued only two walks to the Reds
Meanwhile, Snell entered the season hoping to reverse his reputation of being a perennial slow starter.
He hasn't.
His best start was his second Opening Day start of his career, when he gave up three runs on six hits and a walk in 4 1/3 innings. Over his three starts, Snell has given up 11 runs (10 earned) on 18 hits and 10 walks with 16 strikeouts in 13 innings. That's a 2.154 WHIP and a .327 opponents' batting average.
Melvin appears as bewildered by Snell as he is by the Padres' offense
"At times, Blake's stuff is as good as there is," Melvin. "We saw that at the end of last season."
Strider, who finished second to teammate Michael Harris II in the National League Rookie of the Year voting last season, has pitched 150 major league innings over 36 appearances (23 starts).
He has a 13-5 record with a 2.76 ERA, a 1.020 WHIP and a .182 opponents' batting average with 229 strikeouts against 54 walks.
Strider is 0-0 with a 4.66 ERA and 14 strikeouts in 9 2/3 innings over three career appearances (one start) against the Padres. Snell is 0-1 with a 4.50 ERA and seven strikeouts in 10 innings covering two appearances (all starts) vs. the Braves
--Field Level Media