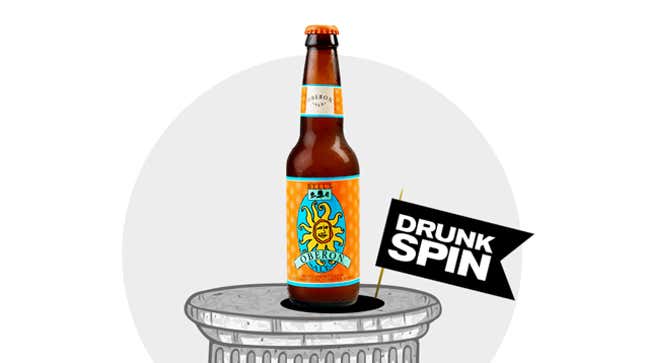 It was bright and sunny and pleasant in Boston yesterday, so I ducked out of fake-work a little early to drink in a dark, dingy bar with a couple of likeminded morons.

How running an NFL team is like running a restaurant | Chef Emeril Lagasse
In honor of the nice weather and my friend James's Canadianity, I smuggled in a bottle of Beau's All Natural Brewing Company's Wag the Wolf, a hoppy wheat ale from Ontario. (I reviewed a Beau's beer once, and they send me samples sometimes.) I don't go in for strict seasonal determinism when it comes to alcohol, but I do appreciate the way a nice wheat beer pairs with a sunny spring afternoon away from the office. Beau's calls Wag the Wolf a "hopfenweisse" on account of the late addition of fruity Southern Hemisphere hops; it's a pretty distinct beer, and a very good one. I recommend everyone with access to Ontarian craft beer try Wag the Wolf on the next available sunny afternoon.
Those of you outside Beau's distribution area are still in some other kind of luck, though, because there are dozens of good-to-great wheat beers out there to meet your spring-afternoon needs. If you go for the spicy, yeast-driven Belgian kind, Allagash White is widely available along the East Coast and in California. Boulevard's 80-Acre Hoppy Wheat, which is more similar to Wag the Wolf, is easy enough to come by in a couple dozen states. I haven't had the pleasure of Three Floyds's Gumballhead, a very highly regarded American pale wheat ale from Indiana, but I hope to soon.
It's not that tough to track down a very good wheat beer; hell, even Blue Moon won't kill you, if it comes to that. This is why it's strange that so many otherwise reasonable Midwesterners go bonkers for Oberon Ale, Bell's thoroughly ordinary seasonal wheat.
Bell's doesn't distribute to my state, but it's hard to be a credible IPA ranker without ever trying their Two-Hearted Ale, so I scammed a sample out of them last fall. I wasn't expecting it to live up to the hype, and I was happily mistaken. That shit is outstanding. It's very hard for an "ordinary" IPA (one that isn't flavored or super-strength) to stand apart from the pack these days; I'm not saying they're all the same by any means, but the style is so popular that hundreds of brewers have gotten really good at producing what we want. But Two-Hearted definitely rises above the pack. So I wrote nice things about it, and the suckers at Bell's sent me some Oberon last month, and now here we are with the bad news.
I fully respect the way nostalgia and ritual can enhance a drinking experience, but I still think it's bonkers for people to get so damn worked up over the annual release of Oberon. Many places in Michigan and surrounding states go so far as to declare an Oberon Day, which this year fell on March 23. A holiday for a seasonal wheat beer is a hell of a thing. It's a shame the people who invent such things wasted the idea on Oberon.
Oberon is a bit boozy for the style, at 5.8-percent alcohol-by-volume, and there's a hint of that alcohol in the aroma, which isn't particularly notable otherwise. There's a little whiff of hops, some lemon, maybe a touch of orange zest. The flavor is similar, and it's not bad by any means, despite a slightly stale edge.
If Oberon weren't such a cult favorite, it wouldn't be worth reviewing, because it's not good enough to bother seeking out, but it's also not so bad that it needs to be strictly avoided. It's … just some beer. But the reason I call it "overrated" is because that's a good clickbait headline word, and also because it's true: RateBeer, a beer-scoring aggregator I tend to agree with, gives it an 89 overall, which works out to a ridiculous 98 for its class (beer-rankers don't like wheats too much). And Oberon gets 3.8 stars on Untappd. That's crazy. I'm not trying to steal anyone's happy memories here, but Bell's Oberon is simply not a special beer in any qualitative sense.
---
This is Drunkspin Daily, the Concourse's adequate source for booze news, reviews, and bullshit. We'll be highlighting a beer a day in this space; please leave suggestions below.

Image by Jim Cooke.
Will Gordon loves life and tolerates dissent. He lives in Cambridge, Mass., and some of his closest friends have met Certified Cicerones. Find him on Twitter @WillGordonAgain.