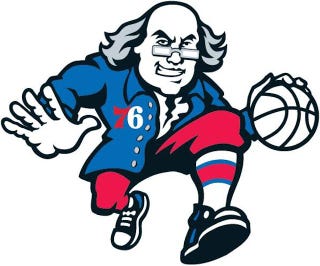 Well this is a bummer. Images of a what was reported to be the Philadelphia 76ers' new alternate logo leaked out on Twitter last night, and everyone was very excited at the prospect of Ballin' Ben Franklin having a home on an NBA uniform. Unfortunately, it doesn't look like Ballin' Ben Franklin is going to make it onto the court this year.
From Sixers reporter Jason Wolf:
Boo! I usually dislike secondary logos, as they aren't much more than an excuse for the team to double dip on merchandise sales, but I am 100 percent in the tank for this logo. Look at how hard Ben Franklin is balling! I imagine he's splitting a double team at the top of the key, using that right hand for a LeBron-style push off (no ref is gonna call that foul on Ben Franklin, man) before crashing his way to the rim for the hoop and the foul.
For the sake of the fans, the Sixers should reconsider their decision not to use Ballin' Ben Franklin. This team is probably going to select seven feet worth of damaged goods with the third pick in the draft later this month, and then fans are going to spend yet another season watch crap basketball while waiting for the potential savior to get healthy. You know what would make a season like that easier to endure? Ballin' Ben Franklin.