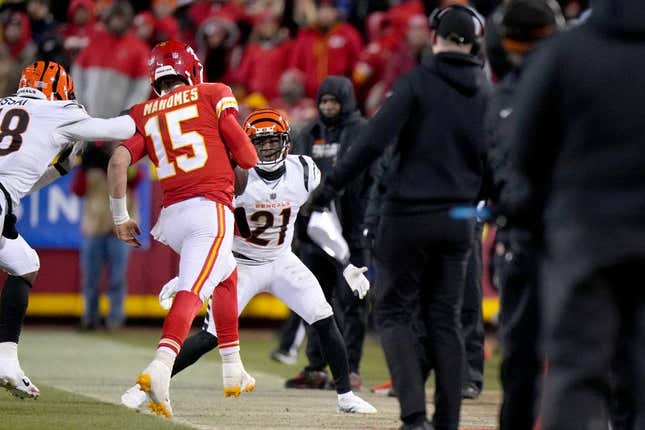 Cincinnati Bengals defensive end Joseph Ossai might not see the football field until training camp as he is still recovering after undergoing shoulder surgery to repair a torn labrum
Air Jordans are more American than McDonald's French fries | Deon Cole's Ultimate Sports Fantasy
Ossai underwent surgery in February. He told reporters on Monday that doctors told him at the time that the recovery would take four to five months.
That timeline makes it unlikely that the 23-year-old will take part in organized team activities.
A third-round draft pick in 2021 from Texas, Ossai missed his first season due to a preseason knee injury. In 2022, he played in 16 games and had 17 tackles and 3.5 sacks.
But Ossai is best known for what happened on Cincinnati's final defensive snap of the season with a Super Bowl berth hanging in the balance.
The Bengals and Kansas City Chiefs were tied up in the final seconds of the AFC Championship Game as Patrick Mahomes gained 5 yards scrambling up the right sideline. Mahomes was well out of bounds when Ossai hit him and was flagged for a 15-yard penalty
The yardage allowed for a much easier field-goal attempt, and Kansas City's Harrison Butker cashed in with the winning 45-yard boot with three seconds remaining.
"I've had a long time to think about that and I'm still to this day processing the mistake, but that's in the past," Ossai told reporters. "Now I'm looking forward to getting back out there and righting that wrong. It's going to take a lot to right that wrong. But the ultimate (thing) would be going back and winning that thing and then obviously going back to the Super Bowl."
Ossai also sustained a hyperextended knee on the Mahomes play, which complicated his recovery from shoulder surgery.
--Field Level Media