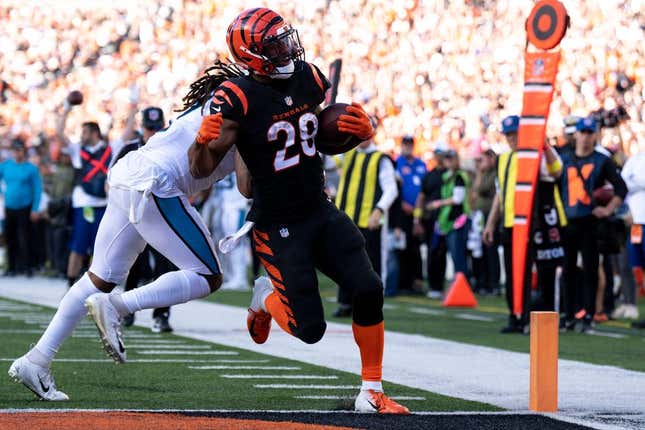 Cincinnati Bengals running back Joe Mixon pleaded not guilty on Wednesday to an aggravated menacing charge in Hamilton County Municipal Court
Does Jimmy Butler have the best NBA Finals origin story? | Agree to Disagree
Bond was set at $10,000.
Mixon, 26, is charged with one misdemeanor count stemming from a road rage incident on Jan. 21 in which police say he pointed a gun at a woman.
Mixon was ordered to have no contact with the alleged victim.
According to police, the incident happened shortly before Mixon was due be to at Paycor Stadium to leave with the team for a road playoff game against the Buffalo Bills.
The initial charge against Mixon was dismissed in early February before being refiled by Cincinnati police on April 7.
Mixon completed his sixth season with the Bengals, who lost to the Kansas City Chiefs 23-20 in the AFC Championship Game. This past season, Mixon had 210 carries for 814 yards and seven touchdowns and caught 60 passes for 441 yards and two TDs
In his six seasons, Mixon has rushed for 5,378 yards on 1,314 carries and 40 TDs, along with 231 catches for 1,763 yards and 10 scores. He has topped 1,000 rushing yards three times.
The Bengals selected Mixon in the second round with the 48th overall pick of the 2017 NFL Draft. A potential first-round pick, he dropped in the draft after concerns about his character. While at Oklahoma in 2014, Mixon pleaded guilty to a misdemeanor assault charge for punching a woman in the face
Mixon signed a four-year, $48 million extension in 2020 and was named to the Pro Bowl that season.
--Field Level Media