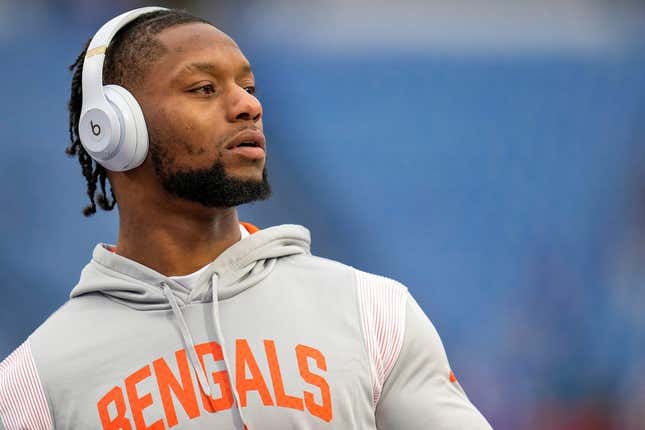 Bengals running back Joe Mixon is being recharged with aggravating menacing, Cincinnati police announced Friday
Bass' ERA stinks, but not compared to who he is off the mound | Worst of the Week Countdown
An affidavit from a woman who alleged Mixon threatened her with a gun during a road rage incident on Jan. 21 initially had been filed in Hamilton County Municipal Court.
Judge Curt Kissinger told The (Cincinnati) Enquirer on Feb. 2 that he signed off on the dismissal of the aggravated menacing charge but that prosecutors have the option of refiling the charge at a later date.
"This decision (to recharge Mixon) was reached following the discovery of new evidence during the investigative process," Cincinnati police said on Friday in a statement to the Enquirer. "To preserve a fair and impartial judicial process for all parties involved, no investigatory details or evidence will be disclosed outside of official court proceedings."
Mixon, 26, is due to appear in court on April 19.
He completed his sixth season with the Bengals, who lost to the Kansas City Chiefs 23-20 in the AFC Championship Game. This past season, Mixon had 210 carries for 814 yards and seven touchdowns and caught 60 passes for 441 yards and two TDs
In his six seasons, Mixon has rushed for 5,378 yards on 1,314 carries and 40 TDs, along with 231 catches for 1,763 yards and 10 scores.
The Bengals selected Mixon in the second round with the 48th overall pick of the 2017 NFL Draft. A potential first-round pick, he dropped in the draft after concerns about his character. While at Oklahoma in 2014, Mixon pleaded guilty to a misdemeanor assault charge for punching a woman in the face
Mixon signed a four-year, $48 million extension in 2020 and was named to the Pro Bowl that season.
--Field Level Media