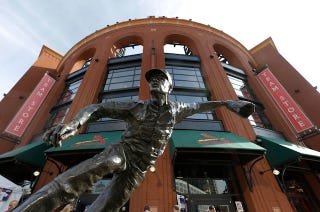 Yesterday, we poked fun at the ridiculous dress codes that will be instituted at a handful of bars within St. Louis' new Ballpark Village. We also noted that Cordish Companies, the developer of the entertainment district, has been previously sued on two occasions for racially discriminating against customers at other bars and restaurants it opened in Kansas City. In addition to those lawsuits, another Cordish-owned bar was sued in 2012 for not allowing black people to hold an event at the bar.
According to the lawsuit, a man named Andre Mulligan met with the staff of the Makers Mark Bourbon House and Lounge in downtown Louisville, Ky., about possibly hosting an event at the bar. Mulligan's suit claims that he was asked what the "white to black" ratio of the attendees would be, and when he responded that 100 percent of the people there would be black, he was told that he couldn't host the event. The suit claims that Mulligan and his friends tried to enter the bar on the day of the event anyway, but were turned away and denied entry. The lawsuit was eventually dismissed after likely being settled out of court.
This makes three lawsuits alleging racial discrimination at entertainment hubs developed by Cordish, granted this this is surely a series of entirely unrelated misunderstandings in no way related to a systematic policy of illegal racial discrimination. You want to know the really funny part? As Next City points out, St. Louis gave these guys $17 million in public subsidies for the Ballpark Village. Good work all around.