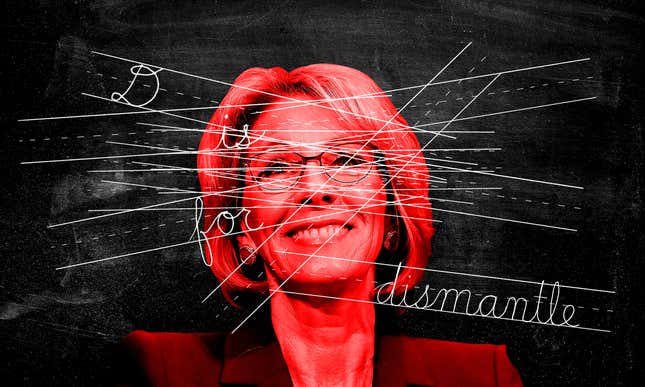 Even among all the billionaires, ideologues, and straight-up racist goons Donald Trump has nominated for his cabinet, Betsy DeVos, who was confirmed earlier this week as the Secretary of Education, stands out for how seemingly unqualified she is. As the doomed critics of her nomination were quick to say, she has never taught in a public school, attended a public school, or sent her children to a public school.

Is Texas or Florida State a bigger national title contender? | Agree to Disagree
Focusing on this, though, misses the point of what DeVos brings to her post. Unlike, say, Ben Carson and Rick Perry, who are totally ignorant of housing and energy policy and have no relevant experience in their new fields, DeVos is highly qualified to implement her vision—children using vouchers to attend Kiddie Cato Institutes in the back of churches, more or less—for America. After all, she's done it before.
A religious wingnut of the highest order, the West Michigan native married into Amway money (her husband Dick is part owner of the Orlando Magic and the entire DeVos clan is worth over $5 billion, according to Forbes) and has made it her life's work to wage war on public schools in her home state, with a special and successful focus on Detroit's public-education system. Your average market-humping moron, when they talk about school choice, simply means that they want to encourage the use of public schools as profit center. DeVos, a visionary in her way, is for abolishing them entirely.
"We need to retire DPS [Detroit Public Schools] and provide new and better education options that focus on Detroit schoolchildren," she wrote in a Detroit News op-ed last year.
The frightening thing about DeVos, though, is less how dystopian her ideas are than how successful she's been at imposing them. She's had her way with Detroit; now she's coming for the rest of the country.
"I'm terrified"
Hilary Young, a community activist and mother of three in southwest Detroit whose children have attended both public schools and charters, knows exactly what happens when under-regulated charters begin to overpopulate the landscape.

"I used to think that creating a free market system of school choice that would create more power at the local level was a good idea. And would have never fully understood until experiencing it first-hand the chaos that that has caused because there's no coordination or regulation," she told Deadspin recently. "And so instead of providing more choice for parents, free of government bureaucracy, it's actually created less choice and less quality and even more government bureaucracy, stripping residents of their democratic rights with all of the state takeovers at every turn."
What does she think of DeVos's newfound power?
"I'm terrified," she said, pausing to contemplate it again. "I'm terrified."
What Young has seen is the logical end of a story that begins with three-term Michigan governor John Engler. A noted union buster years before right to work laws spread across the country, Engler was an advocate for charter schools and the idea that independence from government oversight would free children from bureaucracy through the power of the invisible hand. In late 1993, under Engler's watch (and with the DeVos' lobbying), the Michigan legislature passed a sweeping school-reform law allowing local school districts, universities, and community colleges to open and operate publicly-funded, for-profit charter schools. This was the coming-out party for Betsy DeVos' education shadow government.
She continued wielding influence as chairwoman of the Michigan Republican Party from 1996 to 2000 and a zealot member of the donor class, leaning hard on the state legislature to shape Michigan's schools according to her vision—and that was just the beginning.

Leaving aside her husband's 2006 gubernatorial election loss to Jennifer Granholm, which is another story, DeVos has suffered only one true and public defeat in Michigan: a ballot proposal in 2000 that would have allowed the use of vouchers for private and religious schools. It was soundly derailed, losing 69 percent of the vote. (President Trump has called for a $20 billion voucher program.) But the shellacking at the polls did not deter DeVos.
In 2001, after the ballot initiative was rejected, she formed the Great Lakes Education Project (GLEP) with her husband. They wasted no time. In 2002, according to Politico, GLEP had more money than the United Auto Workers or the state's most powerful teachers' union or any Democratic-affiliated PAC in the state. GLEP got to work bullying lawmakers and launching attack ads, and the fight for unchecked charter expansion and school choice in Michigan was underway. The landmark Citizens United case in 2010 made their lives even easier and enabled them to wholeheartedly use their immense wealth to shape school reform. GLEP has a 501(c)(4), the GLEP Education Fund, which allows it to accept unlimited contributions without disclosure.
In 2011, nearly 20 years after Michigan passed its school-reform law, DeVos and GLEP lobbied the state to lift the cap on charter schools and fought against legislation that would have prohibited low-performing charters from expanding. As a direct result, Detroit charter schools can underperform and not only continue to enroll new students but open up more schools—something that more conventional charter advocates, who have long baked accountability into their model, find patently insane.
Massachusetts, where a ballot measure that would have lifted the cap on charter expansion was shot down this fall, has what a report from the Education Trust-Midwest called "an unrelenting commitment to accountability." The state of Michigan has roughly 40 authorizers—the entities that grant charters to schools and are supposed to manage and monitor performance—whereas Massachusetts has only one: the state board of education.
The lax regulations and lack of accountability have contributed to a proliferation of for-profit charters in Michigan. Roughly 80 percent of charters in Michigan are for profit, more than any other in the country—and they don't have to answer to anyone.
In a letter to the Senate, philanthropist Eli Broad, a student of Detroit Public Schools and a longtime charter advocate, voiced his "serious concerns" over DeVos' "support for unregulated charter schools and vouchers." That the Michigan native, who was unavailable for comment, would have come out so vocally against DeVos signals just how spooked the education community is by her new perch in Trump's cabinet.
DeVos's fingerprints are all over the school-choice movement in Michigan, but her holier-than-thou free-market education policy has had particularly devastating effects in Detroit, where the public schools have been under state emergency management 15 of the last 17 years. Fifty-three percent of students are enrolled in charters—only New Orleans has more—to little discernible benefit. A 2014 report found that charter and public-school students were essentially equally proficient in math and reading, which isn't saying much given that in September, a federal civil-rights lawsuit was filed alleging that the state had disinvested so negligently in Detroit education that children lacked a fundamental access to literacy. Nonetheless, of the 25 Detroit schools on the chopping block for closure this year, just one is a charter.
Detroit went from a public school system with an overlay of healthy alternatives to a mess of unregulated choice where the alternatives have begun to swallow the system whole. This is what DeVos wants to bring to America.
"You cowards!"
It is worth reiterating here again that there is no cap on charter school growth in the state of Michigan. The good majority of these charters are run by for-profit management companies—many of which are out-of-state—and have zero accountability. Before the cap was lifted in 2011, if you wanted to open a charter you had to wait for an available space. When the legislature lifted the cap, it created total mayhem. There are currently 98 charter schools in Detroit as against 97 DPS schools, according to Vice.

"Once the cap was lifted you saw online charter schools, charter high schools popping up in strip malls. Just crazy stuff," a former DPS teacher turned administrator told Deadspin. "Just wild stuff going on where everything turned into for-profit, because there's not a not-for-profit requirement in Michigan. You have schools that are built for 2,000 kids and have 200 enrolled because there's just so many options right now that it doesn't make sense. And the lack of accountability means that even if the school is not doing anything well, it still remains open."
Yes, the city of Detroit has grappled with a shrinking population and disinvestment and a virtually non-existent mass transit system and high crime rates. But it was a diminishing tax base coupled with the rapid expansion of for-profit charters —which siphon students and public funding away from local neighborhood schools—that eventually led to insurmountable debt and a glut of underperforming schools.
This was not the product of bipartisan bickering in Lansing, the state capital. Detroit's schools had been in crisis mode for the better part of two decades and lawmakers agreed legislative action was necessary. DPS needed help (and, with $467 million in operating debt, a path to solvency) and charters needed more accountability.
"We started this entire conversation by saying let's not make this a public vs. charter fight," Michigan State Senator David Knezek, who worked on the package starting back in 2015, told Deadspin. "This was a common accountability system that we wanted to apply to every school. Public or charter. We worked together in the Senate."
The proposed bill, which called for a $617 million aid package, was stuffed with the kind of provisions school-choice advocates and charter-school proponents support. A mayorally-appointed appointed Detroit Education Commission (DEC)—effectively an oversight board—would be staffed equally with three charter members and three DPS members. The DEC would then grade schools from A to F and, in a city that spans 139 square miles with a scattershot population in blighted neighborhoods, decide which neighborhoods needed schools most. Charter school operators that received a C or below could not expand or open new schools, something they were previously allowed to do with zero repercussions.
DeVos and GLEP pounced.
"We finally passed the bill out, bipartisan support—Democrats and Republicans—and it went to the House of Representatives," Knezek said. "And it was in the House where they rammed and jammed it through and took their orders from Betsy DeVos to strip out any language that would have required charter schools to play by the same rules as public schools."
In the version of the bill that was passed in June of last year, the schools received the $617 million but the oversight board was nixed, per DeVos's demands. The system of grades and accountability for charters was gone. State Senator Morris Hood, a Democrat who represents Detroit, was irate.
"You cowards!" Hood yelled on the floor of the Senate. "You damn cowards to even take up this legislation before us and our community and not even have one Detroiter in the room to help to negotiate this. These are kids I have to look at every day, but you want to make decisions about their life and tell them what kind of life they're going to have. This is the crap you're shoving down their throats. This is going to impact them for years."
Because of murky campaign-finance laws we'll never know the true reach of the DeVos family's donations, but an analysis from the Michigan Campaign Finance Network found that the DeVos family donated $1.45 million in disclosed donations to candidates, PACs (including $250,000 to the GLEP PAC), and the Republican Party between June 2 and July 28 of last year in the lead-up to the August 2 primary. They made $14 million in political contributions from January 1, 2015 through last year's election, $3.4 million of which was made in the state of Michigan. None of this accounts for her dark-money ties, which Senate Democrats asked her to disclose last month.
"It is well known here in Michigan, all you have to do is look at the campaign finance reports," Senator Knezek said. "The DeVos family looms large over the Michigan House of Representatives."
(It's no different in Washington. The DeVos family has donated nearly $1 million to the senators who voted on her confirmation, according to the Center for American Progress, and more than $250,000 to senators on the Senate Committee on Health, Education, Labor & Pensions, who pushed her confirmation through to the Senate floor last week.)
DeVos' vision for school choice in Detroit has created an unnecessarily chaotic education climate where "school choice" has directly led to less choice. "A lot of folks perpetuate the thought process that just because I have a choice it must automatically be a better choice," Knezek said. "And what we've seen here in Michigan is that's not the case."
Charters pop up near neighborhood schools and recruit kids to get the per-pupil funding. When a local student moves to the charter, the DPS schools loses not just a student but the cash that comes with it. The uptick in charters dovetailed with far more punitive rules for public schools and led to a rash of closures. And the closures have completely destabilized education in the Motor City.
"Why us?"
Andrea Ervin, a 27-year-old mother of four who lives on the city's East Side, does not know what she will do if her children's school, which is on the closure list this year, shutters. "The thing about my kids is, they love school," she says, laughing. "They love where they are. They're already coming home bringing me the letters. My oldest daughter came home disappointed and said Ma, read this, the school is gonna close."

When Edgar Gomez's school, Detroit Chadsey, closed his junior year in 2009, he said it was nearly impossible for the student body, engaged in a collective freakout over their future, to concentrate. "You think it'll never happen to your school. But unfortunately your school's name comes up on the list. And, how can I put this? All hell breaks loose," the 25-year-old, who is now a community organizer at 482 Forward, an education advocacy group, told Deadspin. "Cause many questions do arise, where are they sending us, what's gonna happen to the building, how can we stop this. Why us? basically."
Now Betsy DeVos—along with the other ideologues and Wall Street stooges appointed by Trump—is set to bring her free-market insanity to Washington, where she will certainly loosen regulations and try to replicate her agenda in Chicago and Newark and the rest of America's cities.
"It's a scary prospect for sure," another DPS teacher, who was not authorized by the district to speak, told Deadspin. "I don't think people are aware enough of what the repercussions could be when the education policies we have here are spread nationwide. That's a pretty terrifying thing."
Andrew Pagan, a 25-year-old teacher who moved to Detroit in 2013 for Teach for America, warned that DeVos's taste for for-profit charters, emphasis on zero accountability, and scorched-earth campaign for public-school closures could wreak havoc on the country.
"She's pushing school closures for public schools," he said. "But then this lack of accountability for charter schools. I think it's created an environment in Detroit where students lack stable, healthy schools to attend. Teachers lack enjoyable, reliable working conditions. I would hate to see the lack of accountability that's causing damage in Detroit be exported across the country. I would hate to see what's clearly a failed system be exported to other cities in the United States."
Everyone I spoke with expressed their complete horror over a billionaire member of the donor class with no experience working in education who has used her family money to intimidate lawmakers and turn Michigan's schools into her own test kitchen being set to rule our schools. But no one put it in as succinct and terrifying a way as Terrence Martin, a 41-year-old lifelong Detroiter, former DPS teacher, and current executive vice president of the Detroit Federation of Teachers.
"She's singlehandedly responsible for financing the demise of our school district. You know the fact that charter schools in our city have no accountability and no oversight, is all DeVos measure, to dismantle public education. The fact that we did not get a Detroit Education Commission in the last DPS legislation has DeVos written all over it. What it would have allowed was for some regulation of the opening and closing of schools. Essentially what has happened because there is no regulation, neighborhoods are being dismantled by school closures," he said, his voice rising.
"This is the doing of Betsy DeVos and other Republican lawmakers who do not value quality education for black and brown children. So now the nation is going to see what a Betsy DeVos-run, financed government can do. It's happened here in Michigan, and now it could potentially happen throughout the country. The country is about to see a dismantling of public education."
Bill Bradley is a writer and reporter living in Brooklyn. His work has appeared in GQ, Vanity Fair, and many other publications. Follow him on Twitter @billbradley3. Know anything about the DeVos family? Drop a note at w3bradley@gmail.com or DM him on Twitter for a way to securely contact him.