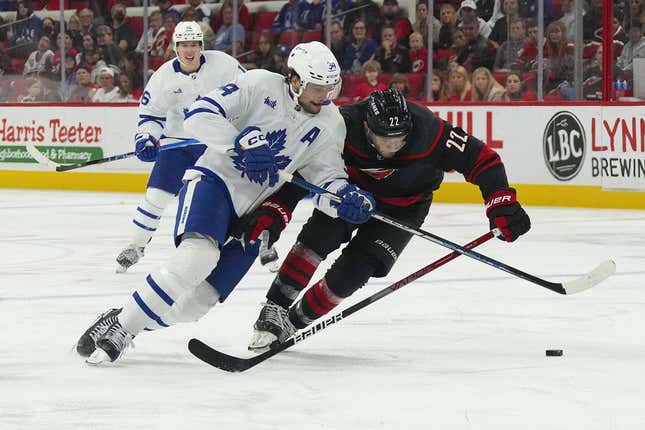 Sebastian Aho scored with 2:26 left to lift the Carolina Hurricanes past the Toronto Maple Leafs in a 5-3 victory Saturday night in Raleigh, N.C.
Can the Florida Panthers make a comeback? | Agree to Disagree
Brent Burns and Jordan Staal had first-period goals and Stefan Noesen scored in the third period for Carolina. Teuvo Teravainen added an empty-net goal. Aho has a team-high 32 goals.
The Hurricanes (47-16-8, 102 points) won for just the fourth time in their last eight games. Pyotr Kochetkov made 41 saves.
Auston Matthews scored two goals for the Maple Leafs, who dominated portions of the game as they rallied from a two-goal hole.
Calle Jarnkrok had the first goal for the Maple Leafs (43-20-9, 95 points), who had won three of their previous four games. That stretch included last week's 5-2 home victory against the Hurricanes.
Matt Murray stopped 23 shots for the Maple Leafs.
Matthews tied a Maple Leafs franchise record with 15 shots on goal.
Noesen's 12th goal of the season was his second goal in a three-game span. He tried to beat Murray on a wrap-around, but was thwarted in that attempt. He kept after the puck and poked it across the goal line with 11:47 remaining.
The Burns goal came 1:54 into the game on a 5-on-3 power play for his 13th goal of the season. He found an opening and a good angle to bang a shot off the right post.
Staal's 17th goal pushed the Carolina lead to 2-0 at 10:52 of the first.
Carolina registered nine of the first 10 shots on goal in the game. The tally ended up at 16-16 through the first period.
Jarnkrok's 18th at 4:41 and Matthews' 35th at 12:41 came during Toronto's dominant second period. The Maple Leafs held a 17-5 advantage in second-period shots.
Matthews posted his goal on one of his nine second-period shots. That gave him a total of 12 shots through two periods.
--Field Level Media