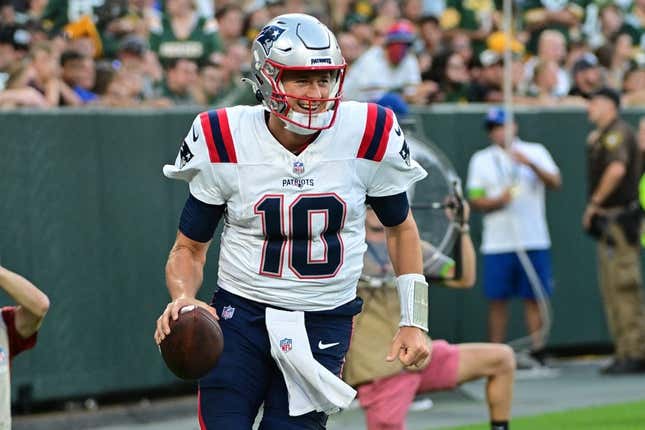 New England coach Bill Belichick praised third-year starter Mac Jones for his offseason and training camp work and also addressed the Patriots' backup quarterback battle on Monday.
How running an NFL team is like running a restaurant | Chef Emeril Lagasse
Belichick made the comments during an interview on WEEI Radio and also in a video conference with reporters.
"Mac's had a good offseason and has had a really good camp," Belichick said in the video conference, adding separately that Jones is in "excellent physical condition."
"And I'd say he's made a lot of improvement over the spring and training camp in reads, decision-making and timing," Belichick told WEEI. "(He's) getting more work, timing with the guys he's throwing to, (he) works hard. Looking forward to the season here with Mac."
Jones, who turns 25 on Tuesday, was the only QB kept on the initial 53-man roster until the Patriots claimed Matt Corral off waivers. Bailey Zappe and Malik Cunningham were signed last week to the practice squad.
Belichick was non-committal about who would suit up as the backup and emergency QB3 in Week 1 against the visiting Philadelphia Eagles, given that Corral just joined the team.
"All roster decisions are based on what we feel like is best for our football team, so there's a number of things involved there," Belichick said. "We're glad to have Bailey, going to continue to work with him, still think he's a good, young developing player."
As for Corral, Belichick said, "He hasn't even been on the field yet, so we'll see."
"Based on what we saw in Carolina and going back to the college film at Mississippi, he's a player we wanted to work with," he added.
Corral, 24, made the Panthers' initial 53-man roster last week as a backup to No. 1 overall draft pick Bryce Young and veteran Andy Dalton, but Carolina subsequently waived him.
Zappe, 24, was New England's fourth-round pick in 2022. He won both of his starts last season and completed 65 of 92 passes for 781 yards, five touchdowns and three interceptions.
—Field Level Media