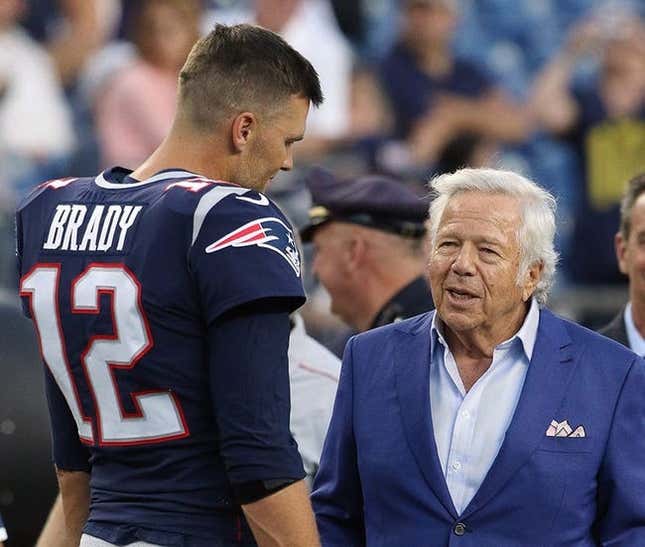 Celebrating Tom Brady tops the Week 1 itinerary for the New England Patriots. From the sound of it, head coach Bill Belichick expects the ceremony to be just the beginning.
How running an NFL team is like running a restaurant | Chef Emeril Lagasse
"Look forward to seeing him and I'm sure there will be a lot of excitement at the game, in the stands as there should be," Belichick said Monday in an interview with WEEI radio. "He's done an awful lot for this organization, for this franchise, for this city, the National Football League.
"One night's really not enough, anywhere close to being enough for the appreciation for what Tom deserves."
Brady spent his first 20 seasons with the Patriots and wrote a storied legacy alongside Belichick and team owner Robert Kraft. Brady and Belichick won 17 division titles, played in the AFC Championship game 13 times and made nine appearances in the Super Bowl with six Lombardi trophies.
New England opens at home Sept. 10 against the NFC champion Philadelphia Eagles. Brady will be honored at halftime.
When Brady left via free agency to sign with the Buccaneers in 2020, there were indications of a fracture in the coach-QB relationship partially tied to Brady's loyalty to his personal trainer.
But Belichick maintained positive praise for Brady when he won a seventh Super Bowl title in a 10th appearance in his first season in Tampa, and thanked him again when he retired in February — this time, Brady says, for good.
Belichick kept the kudos coming on Monday.
"It was a great opportunity for me," he said of coaching Brady. "I feel very fortunate to have coached Tom, Lawrence Taylor, Matt Slater. That's the three top players at their position: offense, defense, special teams, I think in the history of the game, and that's pretty — I feel pretty lucky as a coach. Great players make great coaches, and I've been very fortunate. There's been a lot of great players along the way. I'm not taking anything away from anybody else. But those three are special."
Asked if Brady deserved a statue at Gillette Stadium, Belichick said, "Give him whatever he wants, yeah."
—Field Level Media