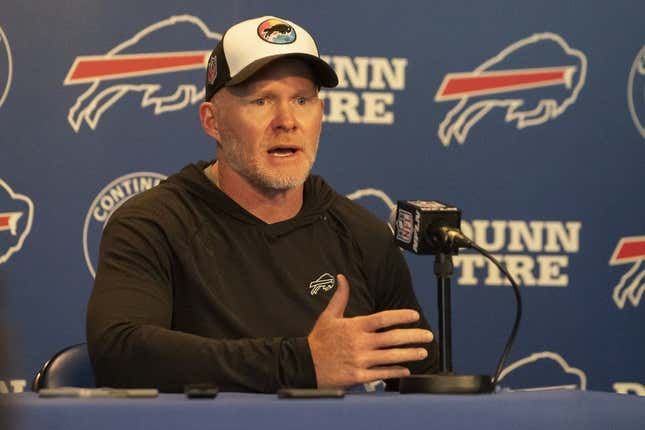 Buffalo Bills head coach Sean McDermott and general manager Brandon Beane signed contract extensions through the 2027 season, the team announced Friday
Is Texas or Florida State a bigger national title contender? | Agree to Disagree
Financial terms were not disclosed by the Bills
Buffalo has posted a 62-35 record since McDermott and Beane joined the team in 2017. McDermott guided the Bills to the playoffs in his first season, marking Buffalo's first trip to the postseason since 1999
The Bills won the AFC East title in 2020 and advanced to the AFC Championship Game. Two more division titles followed in 2021 and 2022
"Sean is a proud, Christian, determined man," Bills owner Terry Pegula said in a statement. "I remember before his interview for the Bills head coaching job thinking about him being a two-time National Prep Wrestling Champ. I thought to myself, you wrestled, you're determined, you love what you're doing, and you won. He comes to the Bills every day and will never ask anyone, player or coach, to do anything he wouldn't do.
McDermott, 49, spent two seasons as the defensive coordinator with the Philadelphia Eagles (2009-10) and six more at the same post with the Carolina Panthers (2011-16) before joining Buffalo. His 66 coaching victories with the Bills, including the playoffs, rank third in franchise history behind Marv Levy (123) and Lou Saban (70)
Beane, 46, selected franchise quarterback Josh Allen with the seventh overall pick of the 2018 NFL Draft and acquired wide receiver Stefon Diggs in 2020.
"Brandon is a very competitive person," Pegula said. "I know he likes to win, but I also know he hates to lose. He's not afraid to say what he's thinking and if he disagrees with something he will say so, even to the owner. I love it. He, Sean, Kim and I have a very good relationship with open discussions, debate and a lot of communication."
--Field Level Media