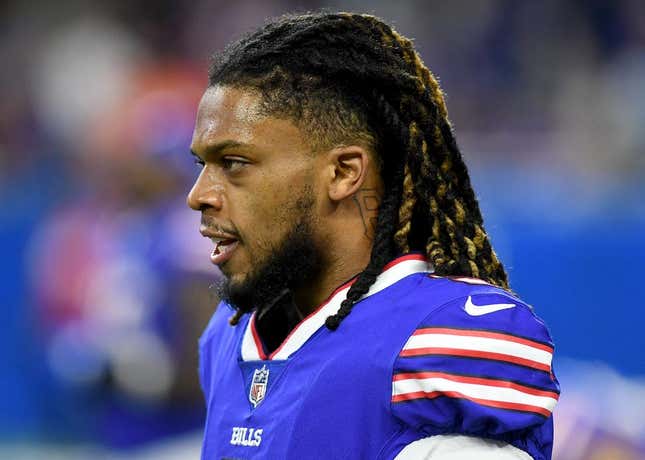 Buffalo Bills safety Damar Hamlin made the roll call for the start of offseason workouts and is fully cleared to participate in all football activities
Bass' ERA stinks, but not compared to who he is off the mound | Worst of the Week Countdown
Hamlin was present on Monday, beating even his own expectations for an unbridled return to the team four months after going into cardiac arrest on the field in the Bills' Jan. 2 game at Cincinnati
"He's seen three additional specialists, most recently on Friday, and they are all in agreement -- not 2-1, or 3-1 or anything like that -- they're all in lockstep of what this was and that he's cleared to resume full activity just like anyone else who is coming back from an injury or whatever," Bills general manager Brandon Beane said Tuesday. "He's fully cleared. He's here, and he's in a great head space to come back and make his return.
Hamlin said the day before the Super Bowl in February that he was headed in the right direction and wasn't planning to pause his NFL dreams.
After losing consciousness on the field, the Bills' medical and training staff gave him CPR. He was rushed to the hospital and the University of Cincinnati medical staff was shocked by the recovery of the 25-year-old safety
During his hospitalization and the two weeks after, Hamlin said his foundation that raises money for a community toy drive received more than $9 million in donations. The non-profit started in 2020 as a GoFundMe campaign seeking $2,500 for a toy drive.
Hamlin said in February he was committed to educating the public on the merits of CPR training and life-saving techniques, partnering with the American Heart Association on a national program to provide free tutorials and videos on emergency breathing and defibrillator use.
A sixth-round pick by Buffalo in 2021, Hamlin has recorded 93 tackles, 1.5 sacks and four passes defensed in 29 games (13 starts) with the Bills
--Field Level Media