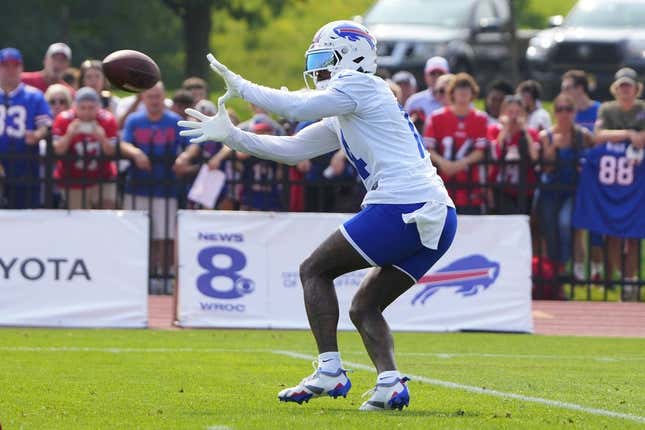 Bills wide receiver Stefon Diggs denies he wants to leave Buffalo, taking to social media on Monday to shoot down a report stating just that.
How running an NFL team is like running a restaurant | Chef Emeril Lagasse
Stephen A. Smith said on ESPN that Diggs "wants out of Buffalo. I have my sources."
Within an hour, Diggs fired back with his side of the story: "100% not true. I don't know who the source ?? is but I thought i nip this s—- in the bud already."
A rocky offseason seemed to be behind the Bills and their No. 1 wideout before Monday.
There has been acrimony reportedly stemming from Diggs' lack of voice in the offensive scheme and design in addition to his minimal impact in the playoff loss to Cincinnati last season.
Diggs had four catches for 35 yards on 10 targets in that 27-10 divisional loss to the Bengals on Jan. 22.
Diggs stormed out of the locker room after the defeat and made no appearances during the voluntary offseason program. He was M.I.A. for the first day of mandatory minicamp but returned for Day 2, when Bills coach Sean McDermott said the 29-year-old had been excused from the first practice. McDermott was "very concerned" with Diggs' absence just the day before.
"I feel like we're in a real good spot so the rest of it though, the details I want to respectfully keep those conversations in house," McDermott told reporters Wednesday.
Quarterback Josh Allen told reporters that he and Diggs were "working on some things" that were "not football-related" in May.
Diggs caught 108 passes for 1,429 yards and 11 touchdowns in 2022. His catches ranked fourth in the NFL, his yards fifth and his TD receptions were tied for third.
Diggs signed a four-year, $96 million extension in April 2022 and is set to make $24.415 million in 2023. That puts him fifth among all wide receivers for the 2023 season, per Spotrac.
—Field Level Media