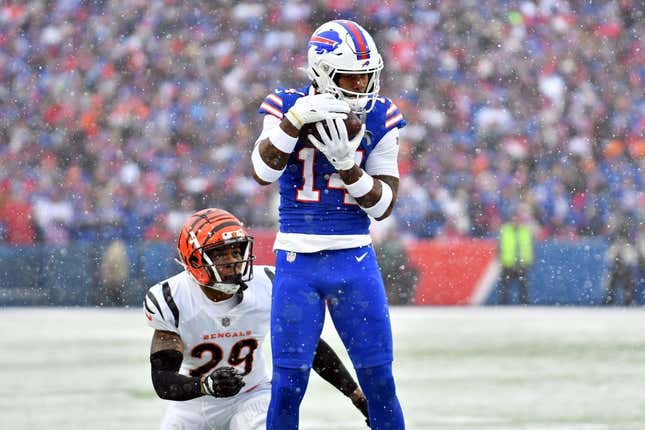 Buffalo Bills star wide receiver Stefon Diggs was back with the team for Day 2 of minicamp on Wednesday
Is Texas or Florida State a bigger national title contender? | Agree to Disagree
In fact, the Bills put out a 20-second video -- replete with music -- on Twitter showing Diggs, in uniform, practicing with his teammates. The title was, "He's back.
His attendance followed a day of drama in which Diggs was a no-show for the opening day of mandatory camp, despite having been in the building both Monday and Tuesday morning, only to leave before practice started.
His absence spurred a day's worth of speculation as to what was eating the 29-year-old Pro Bowl wideout. The speculation evolved into potential trading partners for Diggs, who carries a dead cap hit of $45.5 million this season, making him practically untradeable.
For his part, Diggs' only communication came on Instagram on Tuesday night.
"I just be letting people cap. If them lies help you sleep better tell em big dawg," read the first post.
"My phone been silent for like 6 years. Ion play all them sounds and s--t," Diggs wrote in a follow-up.
Bills quarterback Josh Allen shed some light Tuesday afternoon on what might be happening, saying he and Diggs were "working on some things," adding the issues were "not football-related.
"There's things I could do better to help out with this process and try to get him back here and be the Buffalo Bill that he's meant to be. ... There are some things that could have gone better last year and didn't," Allen said Tuesday. "I think, as an organization, maybe not communicating the right way with everything. Just trying to talk and listen at the same time, hear him out and just try to move this forward as quickly and respectfully as possible."
Diggs skipped the team's entire offseason program, but those sessions were all voluntary until Day 1 of minicamp on Tuesday. Missing one mandatory workout will cost a player $16,459.
Diggs caught 108 passes for 1,429 yards and 11 touchdowns in 2022. His catches ranked fourth in the NFL, his yards fifth and his TD receptions were tied for third.
Diggs signed a four-year, $96 million extension in April 2022. He's set to make $24.415 million in 2023. That puts him fifth among all wide receivers for the 2023 season, per Spotrac.
--Field Level Media