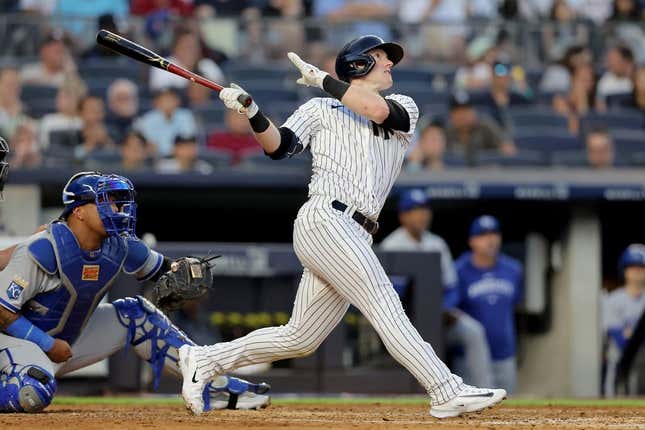 Billy McKinney hit a go-ahead, three-run homer in the fourth inning and made a pair of highlight-reel catches in center field as the host New York Yankees recorded a 5-4 victory over the Kansas City Royals on Friday night.
The Yankees best player this month is who?!
The Yankees best player this month is who?!
Franchy Cordero homered for the second straight game and Gleyber Torres connected to extend his hitting streak to 11 games as the Yankees stopped a four-game losing streak and won for only the third time in 12 games
The Yankees best player this month is who?!
New York starter Clarke Schmidt (6-6) allowed a three-run homer to Michael Massey in the fourth but no other runs in his 5 2/3 innings. He gave up five hits, struck out two, walked one, and was pulled after 64 pitches.
McKinney homered to the short porch in right field to give the Yankees a 4-3 lead after DJ LeMahieu walked with two outs and rookie Anthony Volpe singled. The center fielder hit his fifth homer after making a spectacular catch on a Kyle Isbel drive to end the third
Isbel hit a sinking liner that sliced into left-center field as McKinney raced over. McKinney completed the sliding catch in front of the warning track just before the ball hit the ground.
After Schmidt allowed a double to Maikel Garcia in the fourth, he grazed MJ Melendez with a pitch three batters later. He was one strike away from ending the inning, but Massey hit a 2-2 pitch about halfway up the second deck in right to give the Royals a 3-1 lead
Massey, whose hadn't homered since May 29, went deep again in the eighth off Tommy Kahnle. It was the second baseman's first career multi-homer game.
In his fourth career start, Kansas City's Alec Marsh allowed five runs on five hits in 5 1/3 innings. Marsh (0-4) struck out three and walked two in his second-longest outing.
Wandy Peralta followed Schmidt and stranded two in the sixth before McKinney made a leaping catch to open the seventh. McKinney raced back to catch a fly ball by Drew Waters and completed the leaping catch at the 385-foot sign in front of the New York bullpen.
The next batter, Isbel, singled, and Michael King replaced Peralta and struck out Salvador Perez with two on to end the inning. Kahnle kept the lead despite allowing Massey's second homer.
Clay Holmes pitched a scoreless ninth inning for his 12th save.
—Field Level Media