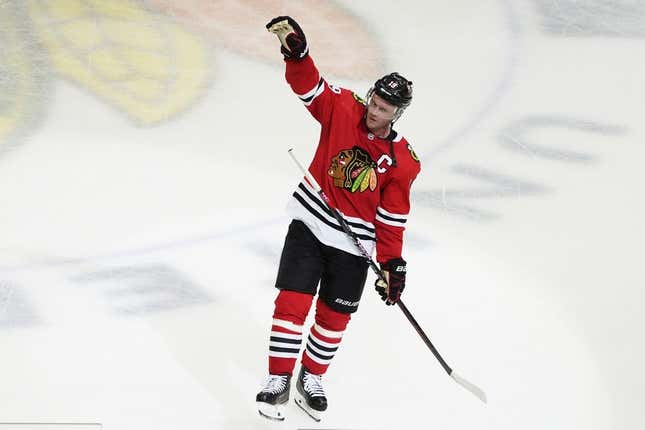 No Jonathan Toews, the Blackhawks forward recognized as Captain in Chicago, means the franchise is planning to withhold the "C" and not designate a team captain in 2023-24.
How running an NFL team is like running a restaurant | Chef Emeril Lagasse
General manager Kyle Davidson said Tuesday that a series of alternate captains are in place as the leadership of the young roster becomes more apparent.
"The only plan right now is to sort of just let it breathe for a year," Davidson said. "We came off such a successful tenure with Jonathan that, a little bit of it is just out of respect for Jonathan, to not fill that spot right away.
"And the other part is not to put that pressure on someone else when you're coming out of a period of such — call it greatness, right? And you want the next person to be in a position to succeed. And there's no requirement to have a captain, and so we just felt that it was best to leave that, push that decision a little bit, we'll let the chips fall where they may."
Toews held the captaincy since 2008. This is the first season for the Blackhawks without a captain since 2007-08.
Toews had 31 points in 53 games last season with the Blackhawks, but said he isn't "fully retiring" yet. The Blackhawks moved on from other veterans in a rebuild over the past two seasons. Longtime Toews sidekick Patrick Kane was traded to the New York Rangers last season.
Connor Bedard was the Blackhawks' No. 1 pick in the 2023 NHL Draft, and veterans such as Connor Murphy and Seth Jones could also be worthy of the "C" stitched on their sweater.
"Over the next year, we'll see who emerges, see what the best option is," Davidson said, "and decide next year if it's appropriate to name someone, we'll just take that as it comes."
—Field Level Media