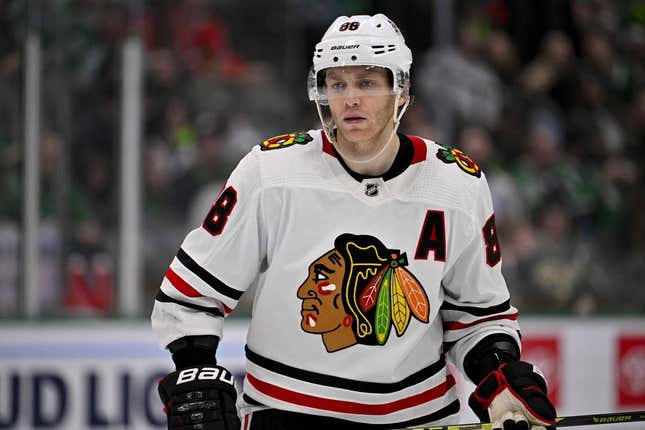 Chicago Blackhawks star forward Patrick Kane was a healthy scratch for Saturday's road game against the San Jose Sharks and has left the team for at least the time being.
Rumors have circulated that Kane could be dealt, possibly to the New York Rangers, in advance of Friday's NHL trade deadline.
"... Based on the current status of Patrick's situation, we collectively felt it was more appropriate to have him not play during this period of reflection," Kane's agent, Pat Brisson, told TSN.
In the final season of an eight-year contract, the 34-year-old Kane has 16 goals and 29 assists in 54 games. The four-time NHL All-Star, who is a three-time Stanley Cup champion, has 1,225 points (446 goals, 779 assists) in 1,161 games over 16 seasons in Chicago.
Now, his storied tenure with the Blackhawks could be coming to an end.
"He was with the team (Friday), but as of today he's flown back to Chicago just until the situation rectifies itself either way," Blackhawks coach Luke Richardson said, according to nhl.com.
Kane has a no-movement clause in his contract giving him the right to veto any trade. While he was with the team Friday, he did not practice as the Blackhawks labeled it a "maintenance day."
--Field Level Media