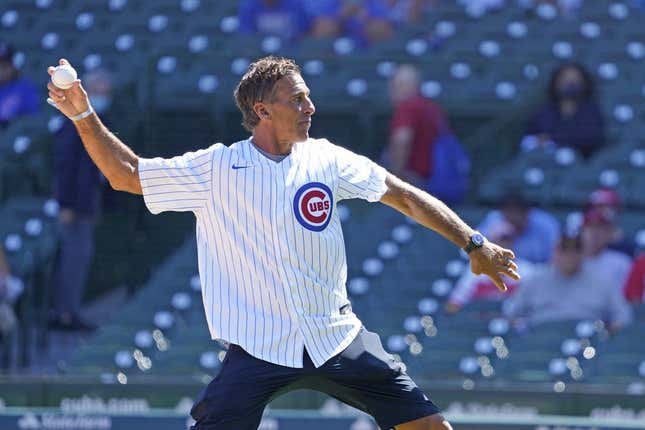 Hall of Fame defenseman Chris Chelios will have his No. 7 retired by the Chicago Blackhawks on Feb. 25 prior to a game against the visiting Detroit Red Wings.
How running an NFL team is like running a restaurant | Chef Emeril Lagasse
Pearl Jam lead singer Eddie Vedder announced the news to Chelios, his friend, before more than 20,000 fans at a concert at the United Center in Chicago on Thursday.
Chelios, a Chicago native, played nine seasons for the Blackhawks after being acquired from the Montreal Canadiens in 1990. A captain with the Blackhawks from 1995-99, Chelios recorded 487 points (92 goals, 395 assists) in 664 career games with Chicago and won two (1993, 1996) of his three Norris trophies with the team. He won his first Norris Trophy with the Canadiens in 1989.
"We are entering a new era of Blackhawks hockey on the ice, but the importance of honoring past members of this organization is, and always will be, a priority," Blackhawks chairman Danny Wirtz said. "Chris Chelios represents not only the Blackhawks, but, given his roots here, the city of Chicago."
A three-time Stanley Cup champion (1986, 2002, 2008), Chelios totaled 948 points (185 goals, 763 assists) in 1,651 career games with the Canadiens, Blackhawks, Red Wings and Atlanta Thrashers. He was selected by Montreal in the second round of the 1981 NHL Draft.
Chelios, 61, was inducted into the Hockey Hall of Fame in 2013.
He will be the ninth player in team history to have his number retired, joining Glenn Hall (No. 1), Pierre Pilote (No. 3), Keith Magnusson (No. 3), Bobby Hull (No. 9), Denis Savard (No. 18), Stan Mikita (No. 21), Tony Esposito (No. 35) and Marian Hossa (No. 81).
"Rocky (Wirtz) wanted Chris to be the next Blackhawk to have his jersey retired and would have loved to see this moment," said Danny Wirtz, who was referencing his father. "We look forward to celebrating Chris' career in February with his family, friends and sharing it all with Blackhawks fans."
"We are thrilled to have Chris Chelios' number hang forever in the United Center rafters," Blackhawks president Jaime Faulkner said. "There is a lot to come for the organization as we celebrate achievements of the many great players who have worn the Blackhawks sweater. With our upcoming Centennial celebration during the 2025-26 season, plans to celebrate our alumni and additional jersey retirements will continue to emerge as we look forward to sharing that with our fans."
—Field Level Media